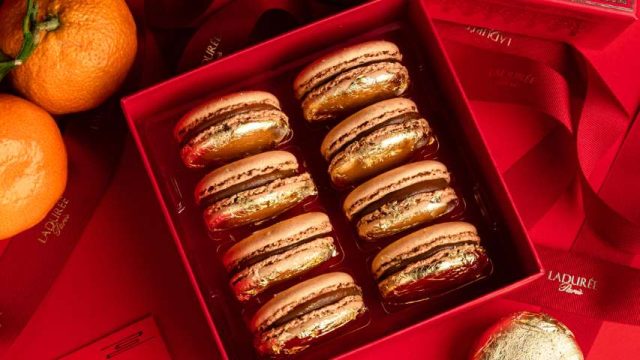 Today Ladurée Canada is celebrating the year of the rabbit by bringing back its exquisite Lunar New Year macaron box. The collectable box is decorated in traditional red and gold colours symbolizing good fortune. Boxes can be selectively filled with eight macarons ($43.00) from an assortment of Ladurée's classic or specialty flavours. For the holiday, Ladurée's famous macarons can be customized with the symbolic rabbit ($1.50 per side) or luxurious gold leaf detailing ($3.30 per side).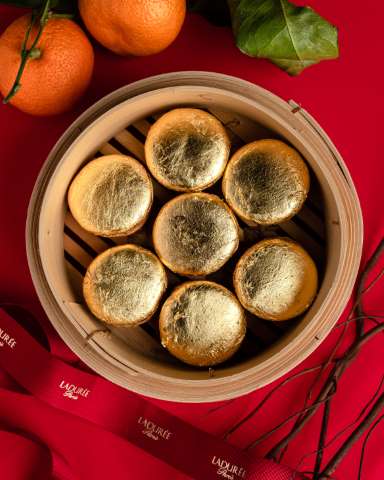 In Vancouver, Ladurée's Pastry Laboratory will also be offering a limited edition 'Evidence' cake for Lunar New Year, available January 12 – 22. This special dessert by Ladurée's executive pastry chef from France, Alexandra Launay, is made with a red chocolate base filled with yuzu and tangerine cremeaux and madeleine biscuit, topped with a delicate coconut mousse and decorated with a gold leaf and shiny red glaze. Ladurée's famous macaron pyramids, a suitable party centre-piece, are available to purchase during the holiday with both custom and classic flavours from its Vancouver and Toronto locations.

"Ladurée is thrilled to offer its gorgeous red and gold Lunar New Year macaron boxes for this very special holiday," says Olesya Krakhmalyova, owner, Ladurée Canada. "They are available at Yorkdale and Exchange Tower in Toronto, and in Vancouver on Robson Street and at our carriage pop ups at Pacific Centre and Vancouver International Airport."
During this time Ladurée's other popular classic macaron boxes like Napoléon, Prestige and Crystal are also available and can be customized with a special message, logo or gold and silver leafed macarons. The French patisserie offers nationwide shipping and local same day delivery in the Greater Toronto Area and Greater Vancouver Area. Ladurée is also available via UberEats in select delivery zones in Toronto and Vancouver.