David's Bridal, the nation's leading bridal and special occasion authority added a new romantic touch to its product offerings. For the first time in the retailer's history, David's Bridal will now offer exclusive fragrances for all occasions. Offering three uniquely romantic and sophisticated scents, Devotion, Infatuation, and Dream perfectly reflect freezing your special moment in time and coming back to it with every spritz. Boasting with sentimental and romantic nods to your special day, the new fragrance collection offers timeless, celebratory scents, modernized to invoke memories—then, now, and forever.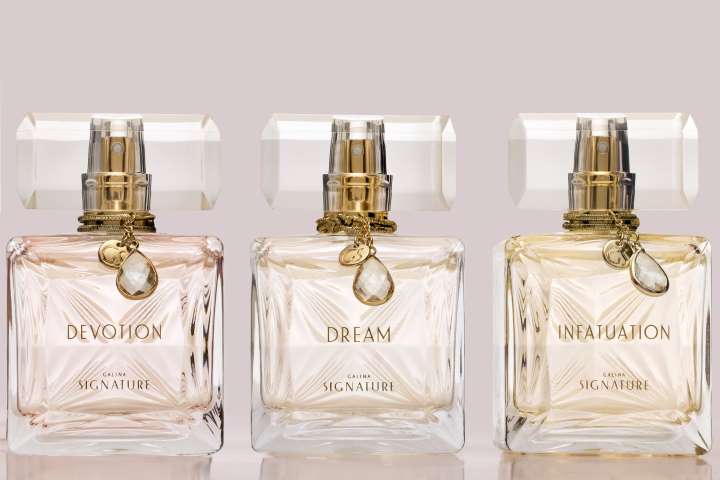 Curated by David's Bridal's expert in-house team of designers, Galina Signature fragrances were crafted with memories in mind. With three exclusive, romantic scents, the Galina Signature fragrance collection is the perfect gift for someone special this holiday gifting season.
Devotion is delicate and timeless, bringing a modern twist to a classic rose scent.
Dream offers a soft and comforting oasis, enveloping a musky woods scent in a jasmine finish.
Infatuation is bright and happy, infusing floral notes with a tangerine pop.
"Galina Signature has always been a staple at David's for romantic and head turning pieces; introducing a fragrance collection to complement our exclusive brand was only natural" said Nancy Viall, Chief Merchandising Officer at David's Bridal. "It is important we deliver products that represent who our customers are – they're classic, playful, sexy, and romantic. This fragrance collection achieves it all. Proving we are more than a dress retailer; we aim to provide the head-to-toe look for all of life's special moments and this fragrance line is the perfect finishing touch. We are thrilled to be able to serve her big day and take her back to it with every spritz."
Boasting versatility, exquisite details, and custom artistry, the new Galina Signature fragrance line showcases David's Bridals consumer diversity in every bottle. The collection features scents to complement the bachelorette party to rehearsal dinner and reception as well as date nights, parties, prom, homecoming, Quinceañera and more. This one-of-a-kind collection is now available to try-on and purchase at all David's Bridal retailers as well as on DavidsBridal.com. Customers can also join the over two million members in their industry-leading loyalty program, Diamond to receive special deals on this exclusive fragrance collection and more.