Clergy clothing differs in function and form. Typically, priests and other clergy members wear this clothing under their vestments. In some cases, clergy robes are worn as everyday clothing. Most of the time, clergy clothing shows its congregation identity. In some situations, special occasions dictate which kind of clergy robes a priest should wear.
Like other types of clothing, clergy dresses and shirts also need proper care and washing. Since most clergy clothes are made of cotton, polyester, rayon, and spandex, they're likely to have the same washing needs. If you're looking for ways on how care to for and maintain clerical clothing, here's a quick guide that could help you for that purpose:
Care labels provide information about the clergy clothing's washing and cleaning procedure. In addition, they tell the appropriate kind of wash—machine or hand—to the clothing's fabric, design, and threading. Aside from the type of wash, care labels also suggest temperature and washing solutions to avoid.
Care labels also give particular instructions in dry cleaning, pressing, and washing settings. Different types of fabrics such as silk, cotton, polyester, have distinct care instructions. Following care labels and instructions maintain the fabric quality. Above all, it provides first-rate washing results without damaging the clothing.
Seek Professional Washing Services
For optimal clergy apparel care, you should seek professional washing services. They offer a vast array of services such as dry cleaning, hand or machine washing, and pressing that maintain the fabric's quality. Professional laundry services provide the same benefits that they cater for special fabrics such as silk and vicuña. Without these services, clergy clothing may be prone to damage over time. It's because special cleaning services such as bleaching use chemicals that could cause discoloration and other types of damage to the clothing.
Mesh laundry bags have a high possibility of protecting fabrics from rips, snags, scratches, and discolorations, especially if they're mixed with clothes with other fabric types. By putting clergy clothing into a mesh laundry bag, you'd be able to keep it distant from the rest of the laundry. This way, it'd have limited chances to tangle or rub with other clothes. Lastly, mesh laundry bags prevent clothes from being exposed to too much detergents and other cleaning agents.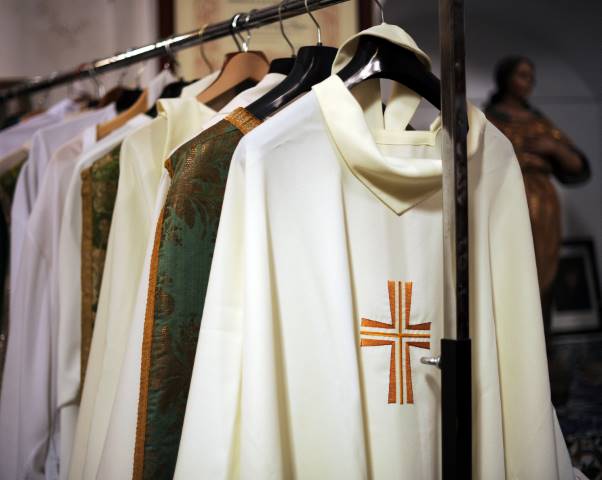 If you want the clergy clothing to dry without wrinkles, you could also hang and air-dry them. In most cases, regular dryers damage clergy clothing as the process is often uncontrolled. Instead, you could just hang the clergy clothes in a shaded area or any location with no direct sunlight to avoid color fading.
Ironing clergy clothing is an excellent way to keep it free from wrinkles. To do this, you should first refer to the care label and instructions. This way, you'd know if the clothing could be safely ironed. Some materials may not withstand the heat from flat irons. Hence, it could damage the apparel. On the other hand, ironing clergy clothing retains its shape and its crisp look. When doing so, make sure to put on a pressing cloth to avoid burn marks from the heat.
Use Contour Hangers And Garment Bags
To preserving the shape of clergy clothing, use contour hangers. However, before putting them into garment bags, let the clothing's odor disperse first. This avoids moisture buildup inside the bag. In addition, the garment bags protect the clergy clothing from dirt and dust that could stain it.
Additionally, make sure to lock the hook-and-eye closure and keep the clothing from sagging and align the clothing on the hanger's contour. Keep the buttons and cuffs closed to prevent them from having wrinkles and folds.
Wrapping Up
Clergy clothing is a niche set of clothes that needs an equally impressive way of care and maintenance. Because of its fabric, extra care is necessary to keep it free from wrinkles and stains. If you need to keep your clergy clothing clean and well maintained, keep this short guide in mind. They include simple hacks to prevent the unique clothing from losing its color and crispness.
Some ways to care for clergy clothing in this article include carefully checking care labels, following specific washing routines, and using garment bags. Apart from clergy clothing, this guide also applies to other dresses and apparel made from the same fabric. That said, if you want to keep your apparel in tip-top shape, just follow this quick guide or use professional laundry services as necessary.