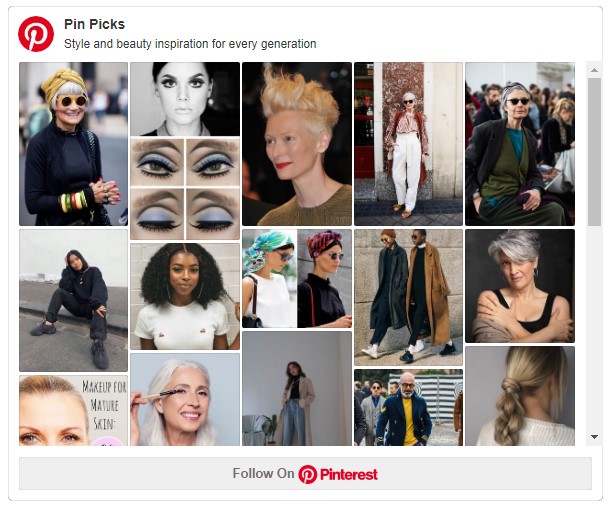 True style is ageless and Canadians are using Pinterest to find fashion and beauty inspiration that speaks to their personal style, no matter how old or young.
Pinterest insights show unique trends from every age group – from funky hairstyles to internationally inspired fashion – revealing there is no limit to where Pinners will seek their beauty and style inspiration. It also reveals that no matter what age you are, there is always an appetite to evolve your look and try something new.
Below are the top style and beauty trends Pinterest found that are inspiring people on the platform across the generations:
FASHION
Streetwear has no age limit: searches by Pinners in their 20s are up +245 per cent, in their 30s (up +298 per cent), 40s (up +308 per cent), 50s (up +265 per cent) and even those in their 60s are searching "sneakers fashion", which is up 316 per cent.
International and global inspired fashion is on the rise: Pinterest found there has been an increase in searches for hijab fashion for those in their 20s and 30s, ("modern hijab fashion" up 1745 per cent and "street hijab fashion" up 244 per cent), "Korean fashion trends" for those in their 20s and 60s, (+1075 per cent and +93 per cent) and "Parisian chic style" for those in their 40s (+174 per cent).
BEAUTY 
Bold and creative makeup trends are more popular among younger generations: searches for "makeup art" are up 106 per cent  for those in their 20s and up 142 per cent for those in their 30s
Older generations inspiring younger generations: people in their 20s are increasingly searching for the bold looks of 60s makeup (+59 per cent)
People of all ages are looking to improve their makeup craft and elevate their look. Searches for "makeup videos" are up 131 per cent among Pinners in their 30s, and up 150 per cent among Pinners in their 40s. "eye makeup tutorial" is trending among Pinners in their 50s and 60s (up 74 per cent and 140 per cent)
The sky's the limit when it comes to hair: people in their 20s are increasingly searching for braided ponies (+593 per cent), people in their 40s are all about "scarf hairstyles"(+204 per cent) and people in their 50s are proving to be more edgy, with searches on "shaved hair designs" up 237 per cent.

See below for more popular styles on shaved hair designs
Pinners are embracing their authentic selves: with searches for "natural hairstyles" up 670 per cent for people in their 30s, "short afro hairstyles" up 284 per cent for people in their 50s, and "short grey hair" is the top trending hair related search term for people in their 40s (+517 per cent), 50s (+571 per cent), and 60s (+610 per cent)