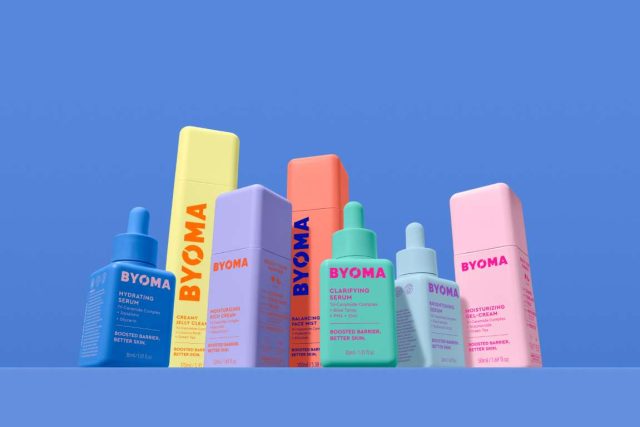 When we STOP stripping our skin and START building our barrier, we find the key to balanced, brighter skin.
Byoma is here to disrupt the status quo of over-treated, over-exfoliated skin, combining barrier care with derm approved, clinically proven skin science to boost, build, balance + brighten.
Their clinically proven, dermatologist- approved formulas; each infused with 3 essential lipids of the skin barrier (proprietary Tri-Ceramide Complex™) plus handpicked active ingredients, boost, build, balance, brighten for your best skin day, every day.
BYOMA'S pledge to the planet: REUSE, REFILL & RECYCLE
Made from fully recyclable, 100% mono-material plastic (The mono-material packaging means responsibly disposing of BYOMA in curbside recycling is easy!)
BYOMA eliminated excess like shrink wrap & cardboard boxes.
The square shape bottles mean they ship easily & efficiently, minimizing their carbon footprint.
The only elements of the pack which are not fully recyclable in household waste (droppers, mists & pumps) are designed to be reused again and again.
Partnered with One Tree Planted ahead of launch to help effectively offset their carbon emissions by Planting Trees for a cleaner, greener planet
A seven-piece collection containing:
Creamy Jelly Cleanser $15.99
Moisturizing Gel Cream $18.99
Moisturizing Rich Cream $19.99
Brightening Serum $20.99
Hydrating Serum $20.99
Clarifying Serum $20.99
Balancing Face Mist $18.99
Available at Shoppers Drug Mart