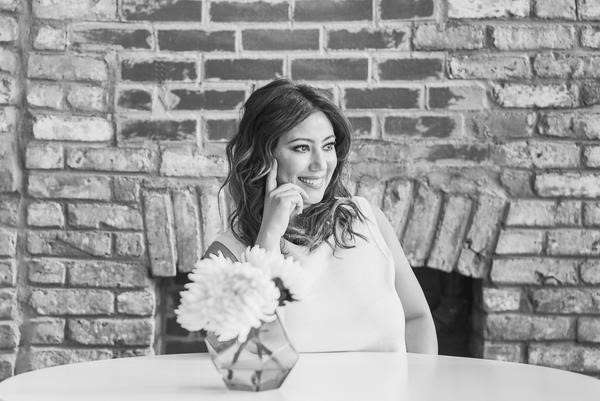 Throughout the decades, brow looks come and go. Full, bushy brows evoke 80s-era Brooke Shields. Super skinny brows scream the late 90s. Recently, the perfectly painted "Insta Brow" has been having a major moment.
For 2019, a more easy-going, lower-maintenance, the natural brow is trending. To achieve this look, we tapped brow guru Umbreen Sheikh for her best tips. As a licensed cosmetologist and Founder + CEO of Wink Brow Bar, Umbreen is a bonafide brow savant. Here's how she – and her teams at Wink's multiple locations in New York City, Brooklyn, and London – are helping clients live their best brow lives.
Umbreen Sheikh's Top 6 Brow Tricks 
Assume the position
While you might think you need to park yourself thisclose to the mirror to precision-groom your brows, that isn't actually the case. "Standing too close can throw-off your brow proportions, and make you lose perspective on the overall shape," says Umbreen. "For best results, stand at least one foot away."
Break out the brush
Short on time? At the very least, give your brows a thorough brushing. Stroke up and over, and then anchor your arches with a dab of brow gel or clear mascara. (More on brow gel shade-selection below.) FYI, the Wink tool of choice has an angled side and a spoolie on one end, so consider investing in a brow brush of similar quality. You'll be using it every day, so it will pay for itself in no time.
Select your ideal shade
Picking the perfect, slam-dunk shade of gel, pencil or powder is crucial, so this is where you need to spend real quality time. As a general rule, you'll want to match your hair roots, which are typically one shade lighter than your brows. "Most women want their brows to add definition to their face, and not 'read' as harsh or aggressive," says Umbreen. "Matching your brows to your roots does that." With one exception, Umbreen cautions. "If you're blonde, go a shade darker than your roots. Otherwise, you'll look washed-out." NOTE: If you opt for professional brow tinting, which lasts for up to four weeks and is among Wink's most popular services, you can skip this shade-selection tip altogether. How easy is that?
Get a little nosey
One of the very best things about next-level brow grooming, whether you master it yourself or pop by Wink for professional assistance, is that it allows you to visually alter the shape of your nose. Thinner, wider – whatever nose look you're after, beautiful brows can help you get there. If you're opting for thinner, Umbreen recommends drawing an imaginary vertical line from the tip of your nose to the beginning of your brow and then focusing your shade-filling right there at the start. To make your nose appear wider, do the opposite and focus your shade-filling at the end of your brow, not the beginning.
Pencil (or powder) it in
Whichever shade format you choose, the absolute key to success is to follow the basic shape of your existing brow. Go easy, and only add color between hairs, as needed. "The idea is to shade, not 'draw' your brows on from scratch," says Umbreen. "The goal is a soft, subtle look that lends definition. Straight, hard lines are to be avoided at all costs."
Between brow appointments, "cheat" with concealer
Pressed for time? If you can't make it into Wink or carve-out 15 minutes to do a thorough DIY bathroom brow-grooming sesh, Umbreen recommends adding a dab of concealer on the most unruly hairs. "Whatever you do, resist the temptation to just yank them out," she says. "Brows add so much structure and personality to your face that you really want to take your time, and groom properly. Or better yet, head to Wink, and let us help."