It all started 5 years ago when Julia Bao, a chemist from Toronto felt discouraged by the long, complicated list of ingredients that came with some of her skincare products. She set out to direct her career doing what she does best: research, experiment, and develop formulas. Julia's motivation was to use a science-based approach to develop high-quality, Canadian-made, natural products designed to improve the skincare industry and help people across the globe to enhance their skin's health.
BAO Laboratory has created premium skincare products using only the finest ingredients, ranging from the purest extracts of organic herbs and marine microorganisms to innovative molecular entities. BAO's expertise is deeply connected to their strong belief that beauty originates from naturally healthy skin.
Lotus Squalane Healing Facial Oil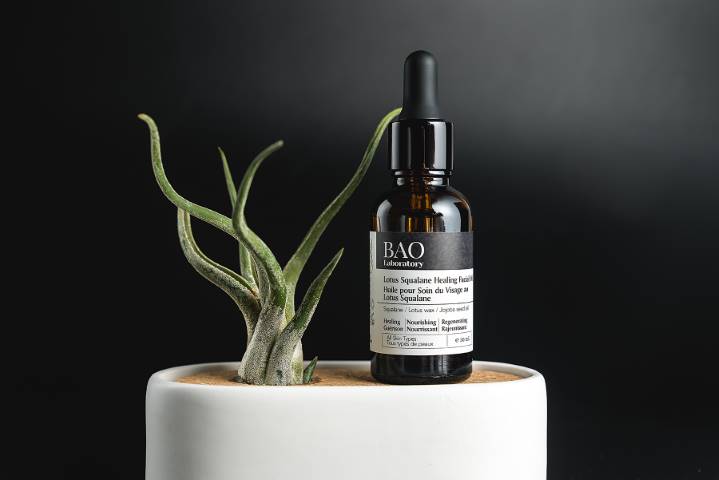 Formulated with squalane, lotus wax, and jojoba seed oil, Lotus Squalane Healing Facial Oil actively heals and protects dry, dehydrated skin with a lightweight formulation that nourishes and moisturizes the skin without blocking pores. Its powerful ingredients work together to soothe, recover, and rebuild your skin's natural barrier, improving the texture of your skin.
Squalane is a naturally occurring substance in the skin that contains great penetrating properties. It preserves moisture, making your skin feel healthy and hydrated. Squalane is also a potent antioxidant that can slow the ageing process and pigmentation.
Lotus Wax is a creamy wax derived from lotus petals. High in vitamins C and B, iron and linoleum acid, lotus wax can detoxify, rejuvenate and soothe the skin, reducing skin irritation and inflammation.
Jojoba Seed Oil contains essential fatty acids, antioxidants and vitamins that act as a natural anti-inflammatory. It can reduce redness, restore natural PH levels and repair damaged skin.
Availability: https://baolaboratory.com/product/lotus-squalane-healing-facial-oil/
Midnight Mirage Antioxidation Facial Oil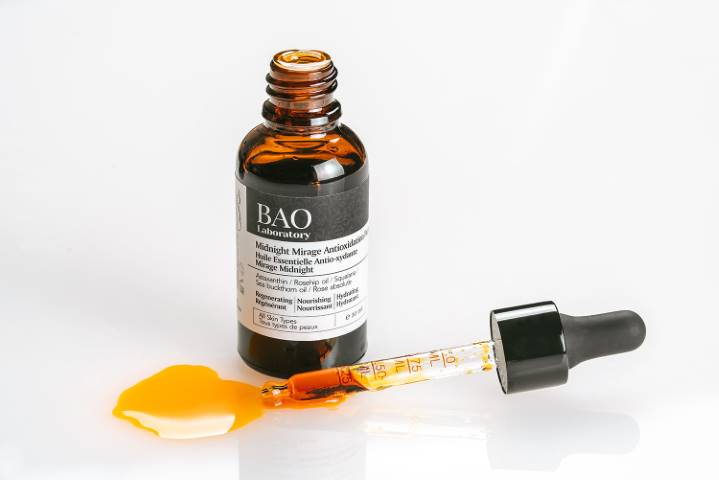 The summer days are over, and your skin knows it! Help your skin heal and reverse the signs of sun damage with Midnight Mirage Facial Oil. Its formulation contains essential nutrients to give your skin what it needs to boost its elasticity, increase moisture retention, and recover from environmental toxins.
Astaxanthin is one of the most powerful antioxidants. It contains nutrients that can actively reduce wrinkles, promote collagen synthesis, and protect the skin from environmental damage.
Rosehip Oil is extremely high in essential fatty acids (linoleic and linolenic) as well as vitamins A, B, C and D, and beta-carotene. It replenishes the moisture barrier and relieves skin irritation caused by dehydration and UV damage.
Sea buckthorn oil is the highest vegetal source of vitamins C and E, unsaturated fatty acids, amino acids and beta-carotene. Its healing properties can soothe irritated and damaged skin by penetrating into its many layers to deeply nourish and soften.
Rose absolute is a natural emollient and astringent. Thanks to its antiseptic and antimicrobial properties, it can protect the skin from harmful microorganisms and heal wounds. Its sweet floral aroma can also reduce depression, fatigue and emotional stress.
Availability: https://baolaboratory.com/product/midnight-mirage-antioxidation-facial-oil/