evanhealy, a trailblazer in the natural skincare industry, is marking its 20th anniversary with an expansion into Canada. As of March 2020, Canada's 14 Whole Foods Markets will carry evanhealy skincare products— a move that will help satisfy their consumers' growing preference for high quality and effective natural skincare solutions. Each Whole Foods will stock the Balancing Ritual lines and other product availability will vary by location.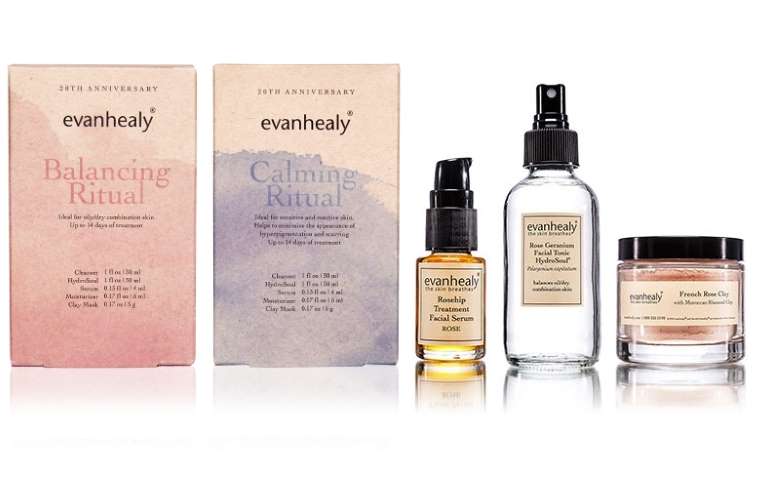 Featuring new packaging that emulates the free-flowing colors of nature, evanhealy's revolutionary approach to skin care is the radically simple Oil and Water Ritual. Co-founded by holistic esthetician and natural skincare expert, Evan Healy, the evanhealy treatment line is based on the idea that the less you interfere with the skin's ability to achieve balance, the better, which stems from Healy's experience as a holistic esthetician.  
"The skin is constantly changing based on what's happening in our lives and our environments," said co-founder Evan Healy. "When I set out on a path towards the evanhealy brand 20 years ago, I wanted to create skincare that heightened our connection with nature while acting as a nourishing sanctuary for the skin. It is amazing to see how far we've come and how our philosophy has resonated with so many people over two decades." 
The brand's signature Oil and Water Ritual features the rhythmic pressing of remarkable plant waters (hydrosols) together with silky oil serums into the skin to help it self-regulate.  
This therapeutic and transformative combination mimics the skin's protective epidermal layer, known as the hydrolipid barrier, providing deep nourishment, hydration and rejuvenation through the exceptional power of pure plant nutrients. Harsh treatments and modern life leave the hydrolipid barrier stripped and disrupted, compromising the health and vitality of the skin. When balanced by oil and water, this living layer of skin helps to self-regulate, detoxify and balance moisture and hydration levels.  
evanhealy relies on certified organic wild-crafted plants, mineral-rich clays and sustainable harvesting practices. Maintaining this intimate connection with plants elevates the efficacy and therapeutic benefits they provide. It keeps the profound prana of the plant alive and well so that by the time the bottle is in your hand, it's still bursting with vitality.  
Ingredients are sourced directly from producers all over the world: shea butter exclusively from the Kpersi Village in Northern Ghana; argan oil exclusively from the Al Amal Women's Co-operative in Southern Morocco; rosehip exclusively from the wilderness of Chile; hydrosols from family farms in northeast Washington State; and essential oils from a European farm co-operative.  
Signature evanhealy treatments include staples like Rosehip Treatment Facial Serum- Rose, Blue Cactus Beauty Elixir, Whipped Shea Butter with Olive Leaf, Wild Carrot Nourishing Eye Balm, and Rose Geranium Facial Tonic HydroSoul. The full line of treatments includes skincare, body care, cosmetics and fragrance. All evanhealy products can be purchased online through evanhealy.com, Amazon, or in brick and mortar natural markets nationwide including Whole Foods. 
Share your evanhealy ritual by using #evanhealyritual on social channels.