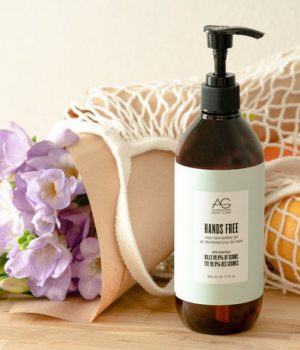 In response to the global pandemic that spread to North America in March, AG Hair swiftly redirected production towards manufacturing hand sanitizers to help meet public demand. Now, the Vancouver-based haircare company has donated 1,200 bottles each of its Hands Free hand sanitizer to the United Way, Canuck Place Children's Hospice, Greater Vancouver Food Bank and BC Cancer Society, as well as to local restaurants. 
AG Hair's Hands Free hand sanitizer exceeds the Centre for Disease Control (CDC) and World Health Organization's (WHO) sanitizer guidelines with a powerful combination of germ-killing corn-derived alcohol and soothing vitamin E, glycerin and aloe. The stylishly packaged sanitizer – available in a gel or spray formula – is now available to the public for $12.99 through the AG Hair website. Both products are manufactured in the company's state-of-the-art, 70,000-square-foot headquarters in Coquitlam, B.C.
"As businesses open and people begin to resume their lives after months of quarantine, we are proud to offer a natural hand sanitizer that fits seamlessly into everyday routines," says Graham Fraser, CEO of AG Hair. "Recognizing that sanitizers and disinfectants are now a key part of self-care, we've designed our Hands Free sanitizers to be gentle enough for frequent use and aesthetic enough for display. We're thrilled to donate thousands of these bottles to frontline and restaurant workers, to thank them for keeping us safe and healthy."
"Throughout the COVID-19 pandemic, Canuck Place Children's Hospice continues to provide critical care to children with life-threatening illnesses and families across B.C.," says Margaret McNeil, CEO of Canuck Place. "Generous donations like the hand sanitizer from AG Hair supports our clinical teams, staff and children and families in hospice through this challenging time. We are immensely grateful for the gift of this product and partnership with an incredible local business, AG Hair."
Over the past 30 years, AG Hair has built a reputation as a leading producer of professional grade haircare products that are cruelty-free and crafted without salt, PABA, parabens or DEA. Certified by Health Canada and the FDA as an over-the-counter (OTC) drug production facility and a Health Canada Natural Health Product (NHP) facility, AG Hair follows strict GMP guidelines with a qualified team of R&D and QC/QA technicians overseeing all aspects of production.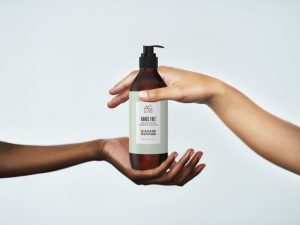 Committed to giving back to communities around the world, AG Hair is a proud partner of One Girl Can, a Vancouver-based charity that strives for gender equality through education for girls living in extreme poverty in Kenya. 
For more information about AG Hair or to purchase Hands Free hand sanitizer, visit www.aghair.com.