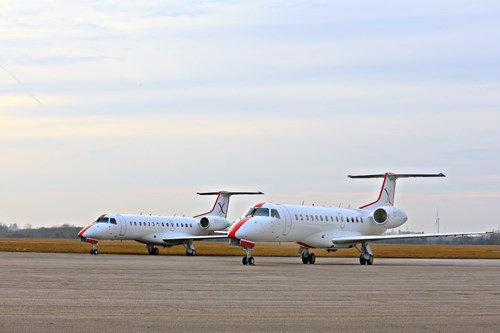 JetSuiteX today announced flights between Burbank/Los Angeles (BUR) and the Coachella Valley's Jacqueline Cochran Desert Resorts Regional Airport (TRM) in Thermal for the weekends of April 14-17 and April 21-24. Music lovers and resort visitors can jet to the desert in just 35 minutes, with tickets starting at $199 each way. Flights may be purchased by visiting jetsuitex.com, or by downloading the JetSuiteX app on iOS.
Starting April 14, JetSuiteX will offer departures from Burbank and Thermal/Coachella Valley on Friday morning and midday as well as Monday morning on its luxuriously configured 30-seat Embraer 135 aircraft. A more limited schedule will run the following weekend.
"JetSuiteX is thrilled to provide LA music lovers and desert weekenders an incredibly comfortable and exceedingly fast way to get to the Coachella Valley in April," said JetSuite CEO Alex Wilcox. "These pop-up flights, ideal for people going to special events these weekends, afford Angelenos the ability to skip the crowds, 10 Freeway traffic or airport madness when they fly exclusively between our private terminals in Burbank and Thermal."
JetSuiteX, whose parent company, JetSuite, Inc., recently announced an investment from JetBlue (JBLU), offers travelers the benefits of private travel – no lines, no waits, no cattle calls and comfortable, well-appointed regional jets – all at commercial fares.
Note: JetSuiteX is not a sponsor or affiliated in any way with the Coachella Valley Music & Arts Festival.
About JetSuiteX
JetSuiteX began offering public charter service in April 2016 with regular flights between select West Coast markets. JetSuiteX provides the speed and comfort associated with private jet travel but for the price of a traditional airline seat, including:
Flight departures from private jet terminals so the experience is faster and more comfortable, with no airport terminal delays, security lines, waiting for gates or long walks through terminals;
30 seat regional jets, each with legroom comparable to domestic airlines' business class service;
Free seat assignments;
Individual power outlets at each seat;
Free WiFi over 10,000 ft.
A spacious, soundproofed cabin interior covered in soft leather, and;
Free drinks and snacks.
For information please visit www.JetSuiteX.com.