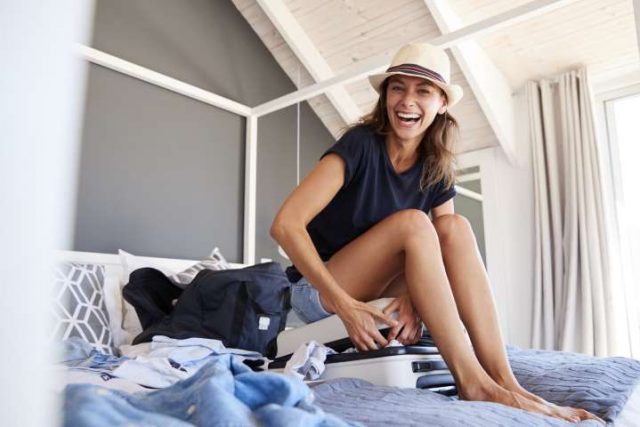 Summer is all about travel, whether you choose to jet away on a girls' trip or bring everyone to Disney, learning to pack like a minimalist is a skill that will serve you well for years to come!
"Now that the tickets are bought and your dream vacay is not far off, it's time to plan what you will bring…and fit everything into a carry-on," recommends Susannah Courteau, Advanced Practice Esthetician and Skin Health Consultant with BREVENA Laboratories. "A sun-kissed vacation doesn't require a lot of items – you just have to pack smart."
Here are Susannah's tips on what to bring and what to leave at home! 
Clothing: Plan on fashions that are versatile and can easily have more than one purpose. A sarong can be your scarf to snuggle with on the plane and a wrap-skirt/dress for late afternoon cocktails. Also keep in line with a similar color scheme allows you to mix and match the few items you select to bring. Or cheat and google "beach capsule wardrobe" and find one that suits your style, and items you currently have in your closet!
Hair Products: This one is a no-brainer – ditch your heavy-duty products for a perfectly coiffed style. This is the beach, where humidity and salty ocean water become your tresses' middle name. Go for your hair's natural wave and texture and accessorize with bobby pins, a colorful or jeweled hair tie or pull your locks into a messy bun or braid. Wanting to look a bit more polished? Comb some styling cream into damp hair and twist it into a bun or French twist adding some earrings for a little bit of drama.
No-Makeup Makeup:  Foundation and smoky eyes are all a bit heavy for the casual, vacation style and can cause some serious t-zone shine as you sweat through it. Instead, pack simple makeup items such as mascara, lip gloss with a sheen and a peachy-toned blush for just the right amount of glow. Better yet, allow your skin a week of vacation too and embrace every sun kissed freckle and smile line!
Moisturizer: Even if the air feels humid during your ocean side vacation, the sun will still parch your skin. Make sure you moisturize every night before slipping into bed. BREVENA's Restore & Hydrate Overnight Cream is perfect to use at night and wake ready for another day in the sun. This luxurious cream with Macro B Complex, helps restore, revitalize, and soften your skin while you sleep. Find an SPF you adore (shout out to Elta MD for their lightweight mineral blend) and apply diligently, doubling down on protection with a fashionable wide brimmed hat and sunnies. If you are craving the glow of a tan, pop in for a spray tan before you leave, and keep it going with a tan extending lotion.
Entertainment: Clothing, skincare, haircare is all packed, but one can only lounge for so long. Now is the perfect opportunity to download some of those books you have been telling yourself you want to read and listen to a couple podcasts (some of my favorites are The Dropout, and NPR's How I Built This.)Throw in a deck of waterproof playing cards, and life is good!
About Susannah Courteau: Skin Expert and Advanced Practice Esthetician Susannah Courteau is a member of BREVENA Laboratories', LLC leadership and advisory team. BREVENA is a luxury skin care cosmetics company based in Saint Paul, Minnesota. A Minnesota native who graduated from St. Paul College as a licensed Esthetician in 2004, Susannah specializes in the medical side of esthetics, performing advanced skin treatments for complex conditions including acne, sensitized and irritated skin. Susannah's extensive training and expertise lead her to become an Advanced Practice Esthetician and Spa Director at Sunbear Salon and Med Spa in White Bear Lake, MN. Susannah has partnered with BREVENA Laboratories as a Skin Health Consultant to further develop the brand's line of clinical grade skin care products, ensuring the needs of the most sensitive skin types are met. Visit: www.Brevena.com