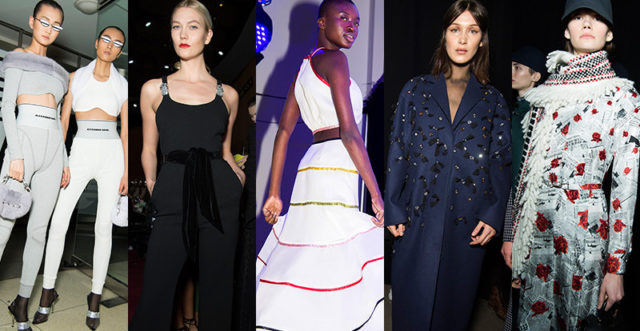 Jason Wu integrated Swarovski crystals into his collection alongside his latest jewelry collection for Atelier Swarovski at his runway show at Spring Studios. Wu embellished a variety of silhouettes including coats, tops, dresses and skirts. Wu's creations included clusters of mixed crystals assembled like hanging fruit on various garments made with hand-pleated crepe de chine and satin. Crystals were also hidden within the irregular folds of the pleats on satin dresses and double-faced wool coats with a satin finish to create an even more luxurious texture. The designer also showcased his Spring/Summer 2018 'Mosaic' jewelry collection with Atelier Swarovski as well as the 'Prisma' Collection, a versatile everyday range inspired by 'Mosaic', which will be more widely available in stores.
Alexander Wang presented his collection at 4 Times Square, incorporating thousands of Swarovski crystals into his designs for shoes, handbags, sunglasses and tights. Wang used Swarovski Crystal Fine Mesh to embellish a variety of accessories that appeared on the runway during his last show at New York Fashion Week.
Brandon Maxwell presented his collection at Jazz at Lincoln Center utilizing over 146,000 Swarovski crystals within jewelry, bags and broaches. Maxwell focused his jewelry on two main motifs – pineapples and knots. He featured Swarovski crystal in pineapple earrings, broaches, and mini bags, as well as in knot earrings and bangles. This is the first season Maxwell's jewelry was designed entirely in-house.
Rosie Assoulin presented her collection at Spring Studios, featuring over 124,000 Swarovski crystals on dresses, skirts, pants, tops, t-shirts and accessories. The designer incorporated red, black, and clear Swarovski crystal beads into embroidery patterns to create textured dashes and crosses on a variety of silhouettes fashioned out of lightweight fabric. For one of her standout pieces – a voluminous full-length gown with crystallized ribbons in a rainbow of red, pink, yellow, green and blue hues – Assoulin drew inspiration from the Richard Harris song 'MacArthur Park,' in which he sings the lyrics, "someone left the cake out in the rain."
Presenting her collection at Café Altro Paradiso Gabriela Hearst embellished tops and dresses with over 32,000 Swarovski crystals. Swarovski crystals and crystal beads in red hues were sewn on to custom newspaper and rose prints to accent the designs that were inspired by her husband's family legacy at Hearst newspapers.
Jason Wu: Runway Show on Friday, February 9 at Spring Studios
"The season's collection surrounds the notion of deconstruction through the polished lens of the house. Dimensionality and texture take center stage this season through refined ornamentation and meticulous craftsmanship. The creative process when working with Swarovski crystal brings a sense of fantasy and modernity to my designs." – Jason Wu
Brandon Maxwell: Runway Show on Sunday, February 11 at Jazz at Lincoln Center
"Because the design and concepts of the garments are purposely quite simple, they need the accessories to give them context. Partnering with Swarovski allows us to explore new ideas and elements that layer the look and better inform who the woman is and where she is going. We used pineapple a lot this season which is a sign of welcome and peace, and we felt that encrusting the pineapples with crystals helps bring this symbol to life." – Brandon Maxwell
Rosie Assoulin: Presentation on Tuesday, February 13 at Spring Studio
"We had this sketch of these beautiful layers, almost like a layered cake. It looked like it was melting as if it was left out in the rain. This was the inspiration specifically for one of our Swarovski pieces!". She continued: "Fall is always very eclectic, not just in formal and informal ways, but there's a heavy focus on practicality and day-to-day wear, knowing that everyone just wants to walk around in a black turtleneck all the time. How do we make women feel like it's easy to get dressed up, while at the same offering them something more than just a black turtleneck?" – Rosie Assoulin
Gabriela Hearst: Runway Show on Tuesday, February 13 at Café Altro Paradiso
"For our third-year anniversary, I wanted to acknowledge and pay homage to my husband's family history in journalism. We did a print based on Hearst newspapers, with red roses all over it that were printed in silk twill and chiffon. To enhance the roses, we embroidered them with Swarovski crystals. It created a wonderful effect." – Gabriela Hearst
Swarovski
Swarovski delivers a diverse portfolio of unmatched quality, craftsmanship, and creativity. Founded in 1895 in Austria, the company designs, manufactures and markets high-quality crystals, genuine gemstones and created stones as well as finished products such as jewelry, accessories and lighting. The Swarovski Crystal Business is run by the fifth generation of family members and has a global reach with approximately 2,800 stores in around 170 countries, more than 27,000 employees, and revenue of about 2.6 billion euros in 2016. Together with its sister companies Swarovski Optik (optical devices) and Tyrolit (abrasives), Swarovski Crystal Business forms the Swarovski Group. In 2016, the Group generated revenue of about 3.37 billion euros and employed more than 32,000 people. A responsible relationship with people and the planet is an integral part of Swarovski's heritage. The global Swarovski Waterschool education program has reached 461,000 children on the world's greatest rivers, and the Swarovski Foundation, set up in 2013, works to support culture and creativity, promote wellbeing, and conserve natural resources to achieve positive social impact.