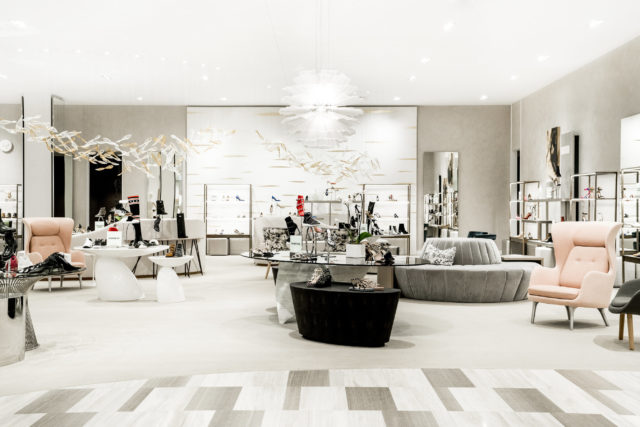 Saks Fifth Avenue is proud to announce the opening of its newest store and third Canadian location, Saks Calgary. The 115,000-square-foot, two-level retail destination is located at the CF Chinook Centre, Calgary, and houses both women's and men's categories with a focus on outwear and an industry-leading selection of luxury handbags, shoes and accessories. In celebration of the opening, locally-sourced artwork is featured in the windows and throughout the store. An in-store dining experience and salon are slated to open soon in 2018.
"Our strategy for all stores in North America is to create one-of-a-kind experiences for our clients―this is what we call 'The New Luxury," stated Marc Metrick, president, Saks Fifth Avenue, "This is an experience clients cannot get anywhere else and we look forward to joining the Calgary community."
Saks Calgary features a diverse selection of modern and designer merchandise with a strong focus on outerwear brands, such as Canada Goose, Moose Knuckles and Mackage, among others. Women's ready-to-wear and denim collections, along with a dedicated Fur Salon, are located on the second floor. The first floor features 10022-SHOE―Saks' famed shoe salon, handbags and accessories from premier brands, such as Alexander McQueen, Alexander Wang, Manolo Blahnik, Valentino, Balenciaga, Givenchy and more. In addition, the first floor houses beauty, apothecary, fragrance and all men's categories.
"Saks prides itself in offering the best brands and styles in a curated and distinctive point of view, known as the 'Saks Edit'," stated Tracy Margolies, chief merchant, Saks Fifth Avenue. "Saks Calgary boasts a luxury footwear selection as well as exclusive beauty brands such as Maison Francis Kurkdjian, Ex Nihilo and Chantecaille, among others. This distinct edit, coupled with our exceptional services, will establish Saks as the Calgary shopping destination."
In honour of the store opening, Saks Calgary will spotlight local artwork, collected from Newzones Gallery of Contemporary Art and Christine Klassen Gallery, in-store and in the windows throughout Feb. 2018. Featured artists include Johnathan Forrest, Yechel Gagnon, Birgit Piskor, Ulrich Panzer and Rocio Graham, among others.
Saks Calgary offers best-in-class luxury and experiential service offerings, such as an intimate private jewelry viewing space, beauty treatment rooms and private shopping suites. Saks Calgary's private shopping suites are adjacent to the second floor where Style Advisors provide the quintessential, personalized Saks styling expertise. Clients may book appointments for any of the experiences by calling [403-440-2100]. Coming soon in 2018, Buffo, a dining experience by Oliver & Bonacini Hospitality, as well as a salon will open in-store on the second floor.
The HBC store design and planning team partnered with Stantec to create a modern interior with dramatic design elements that enhance and unite all of the brands and spaces inside the Saks Calgary store. The design has an understated palette, featuring mixed metal fixtures throughout, and incorporates an eclectic mix of found and custom furniture, fixtures, decorative lighting and accessories, along with hand-crafted and hand-applied materials and finishes.
The store is located at 6455 Macleod Trail SW inside the CF Chinook Centre, and is open Monday through Saturday 9:30 a.m. to 9 p.m., and Sunday 11 a.m. to 7 p.m. Lydia Seifert, a 20-year veteran of the luxury retail space, was named Vice President and General Manager of Saks Calgary last October. For additional information on the new location, visit the Saks Calgary store and events page on saks.com.