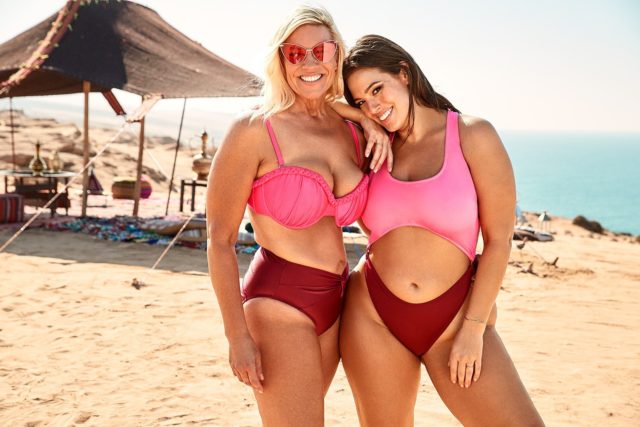 Leading swimwear brand Swimsuits For All, a FULLBEAUTY brand, continues its powerful partnership with supermodel Ashley Graham for the launch of a new limited-edition capsule collection for Resort 2018. At the forefront of the body positivity movement, Ashley sizzles in the brand's latest campaign alongside her role model and mother, Linda Graham. Swimsuits For All's "Power of the Journey" campaign celebrates the path the mother-daughter duo has taken to achieve their true happiness, finding confidence in their own skin. Shot on location in Agadir, Morocco, "Power of the Journey" brings the new collection's vibrant and global patterns, colors and silhouettes to life through a stunning backdrop complete with picturesque beaches, desert tents and native camels.
"My mom has been my role model since childhood and has played a vital role in developing my confidence," said Ashley Graham. "She promoted body positivity in our household before it was a movement. Her feel-good attitude toward her own body has shaped my ability to remain positive and self-assured. I could not think of anyone better to join me in celebrating beauty of all shapes and sizes in this campaign. Plus, she's hot and looks incredible in the suits!"
In their fifth collaboration together, Ashley Graham and Swimsuits For All have continued to produce a strong campaign that ignites a larger conversation around body positivity by celebrating women of varying body types. "Power of the Journey" reaffirms this message, showcasing a new assortment of highly designed, on-trend swimwear thoughtfully crafted to flatter all shapes and sizes.
"I haven't worn a bikini since the 80s!" said Linda Graham. "I don't think I could have uncovered that inner strength without Ashley. That makes being a part of this campaign so much more special – she's my rock and inspired me at age 53 to be proud of my body again after I lost my own fortitude."
The Ashley Graham x Swimsuits For All Resort 2018 collection will be available on SwimsuitsForAll.com