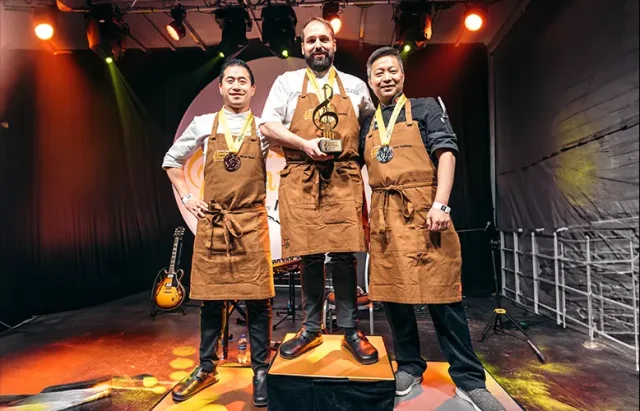 – It was an exciting evening of food, wine, and live entertainment as the Canadian Culinary Championship (CCC) returned for the 2023 Vancouver regional qualifier event, hosted by Canada's Great Kitchen Party. Under the expansive dome of BC Place Stadium, guests gathered to eat, drink, and experience an exhilarating showcase of culinary talent in a competition that featured an outstanding lineup of participants vying for the coveted top spot.
It was Chef Jasper Cruickshank of Whistler's Wild Blue Restaurant + Bar who emerged victorious in the end, with his dish the "Wild B.C. Experience," a captivating ensemble of coastal-inspired flavours, featuring a Side Stripe Shrimp Terrine, a Tartlet of Dungeness Crab, Wakame Leek Crisp, and Essence of Geoduck Clam paired with Roche Wines's 2021 Tradition Pinot Gris, from the Naramata Bench in B.C.'s Okanagan Valley.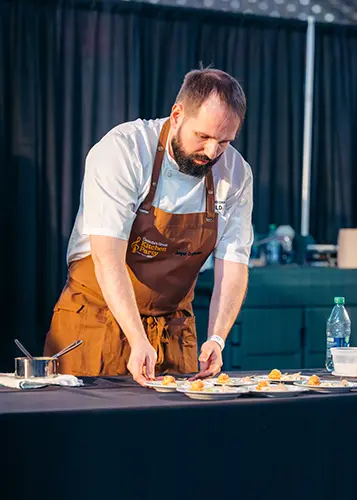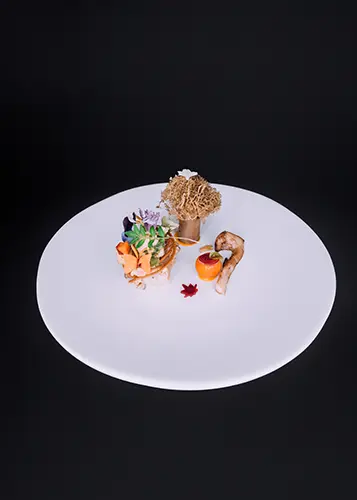 "I am incredibly humbled and proud to have earned the gold medal and against such an amazingly talented field of fellow chefs," said Chef Cruickshank. "I am so excited to represent Vancouver – and Wild Blue's Whistler – in the national finals, and I hope I bring home the title."
Placing second and earning Silver was Chef Akira Kishimoto of Vancouver's Kishimoto with a beautiful and complex dish featuring Gobo and Matsutake Takikomi BC Rice, Kobujime Duck Breast, Duck Fat Roasted Leek Puree, Sage Tuile, Kinome Miso Cauliflower, Pickled Carrot, Microgreens, Carrot "Butterfly," Gobo & Crispy Lichen "Tree" with Smoked Kelp Powder, Sunchoke "Ginkgo Leaf," Tomato & Sea Buckthorn Miso, Beet & Daikon "Spiral," and Binchotan Grilled Matsutake paired with a local sake, Osake Craft Sake's Fraser Valley Junmai Renaissance.
Third place honours and this year's Bronze went to Chef Warren Chow of Vancouver's Wildlight Kitchen + Bar who served Peace Country Lamb Sirloin, Lamb Belly Sausage, Smoked Fraser Valley Duck, Parsnip Puree, Fermented Gooseberry Jus, and Onion Tuile paired with ​​Rust Wine Co's 2020 Syrah, from the Similkameen Valley in B.C. 
While victory is sweet, Cruickshank's work has only begun. Chef Cruickshank will head to Ottawa in February 2024 to represent Vancouver in the national Canadian Culinary Championship, where he will face off against phenomenally talented chefs from nine other Canadian cities hosting qualifier events. 
The competition also awarded honours to three Canadian wines as part of the event. This year's Gold went to L'Acadie Vineyards'  2020 Vintage Cuvée from Nova Scotia. Two B.C. wineries claimed Silver and Bronze, respectively: Ursa Major's 2022 Exile, Love & Misunderstanding Gamay from the Naramata Bench and Tantalus' 2021 Chardonnay from the Okanagan Valley. 
A panel of acclaimed local chefs and food industry insiders, including some past CCC competitors and winners, took on the challenge of judging the chefs' creative and delicious competition dishes. The judges were: National Culinary Advisor Chris Johns (food and travel writer); B.C. Head Judge Joie Alvaro Kent (cookbook author); 2022 KP Vancouver Gold medallist and 2023 CCC Silver medallist Chef Bobby Milheron (Wentworth Hospitality Group); Chef Andrea Carlson (Burdock & Co); Chef Douglas Chang (Ai & Om Knives); Chef Hamid Salimian (VCC International Culinary Arts instructor); Chef Roger Ma (Boulevard Kitchen & Oyster Bar); and Chef Scott Jaeger (The Pear Tree Restaurant).

Joie Alvaro Kent, esteemed cookbook author, food writer, and Canada's Great Kitchen Party B.C. Head Judge, extended her heartfelt congratulations to the winners, saying: "This was an incredible night celebrating the exceptional calibre of talent in Vancouver's culinary community. Our judging panel was highly impressed by the remarkable diversity showcased among all the competitors. Each dish conveyed a strong sense of place and connection to local ingredients, and we could all truly taste that the chefs put their heart and soul into their dishes. The judges are confident that Jasper will carry on British Columbia's legacy of culinary excellence as he goes on to represent our province at the Canadian Culinary Championship."
"All of the chefs operated and delivered on an extremely high level of professionalism, and they made our job difficult tonight," added National Culinary Advisor Chris Johns. "This competition challenges chefs to go beyond their usual restaurant fare. The ultimate decision weighed all key factors, with flavour being foremost. Jasper's winning dish skillfully balanced texture and had that exciting 'wild card' element. The wine selection really complemented the dish, with both elements benefiting from one another. Ultimately, Jasper demonstrated expertise in techniques, flavours, and pairings."
In addition to the culinary competition and grazing-style evening of food and drink, attendees were treated to a spectacular entertainment lineup featuring Barney Bentall, Steven Page, Geoffrey Kelly, Kevin Fox, and Craig Northey, along with the evening's delightful emcee, television personality and comedian Jessi Cruickshank. The evening was designed to both showcase the best of Vancouver's culinary talent while supporting local charities and celebrating Canadian excellence in food, sport, and music.
"I was so honoured to be a part of this truly special event in my hometown of Vancouver," said host Cruickshank. "Celebrating incredible culinary talent and raising money to support our community in the iconic BC Place – what could be better?!"
The Canadian Culinary Championship has a rich history of elevating Canadian culture since its inception in 2004, with the Vancouver qualifier event continuing this legacy and providing emerging culinary talents with a platform to shine on both regional and national stages.
Over the years, a series of accomplished Vancouver chefs have ascended the podium and claimed the prestigious title of Canadian Culinary Champion at the national competition. In 2020, Roger Ma clinched the top spot, securing the coveted gold. Similarly, in 2018, Alex Chen emerged as the victor, also attaining the highest honors. Notably, Chen had previously garnered a silver in 2016. In 2015, Kristian Eligh took the bronze, paralleling Robert Clark's achievement in 2011. Rob Feenie earned the silver in 2012, as did Frank Pabst in 2009, with Melissa Craig garnering the national title in 2008.
Not only does this event celebrate culinary innovation, but it also contributes to the community's well-being. Funds raised through ticket sales are directed towards vital charities that ensure Canadian youth have equitable access to healthy food, music education, and sport opportunities. This year's selected charities are MusiCounts, SpiritNorth, and Vancouver-based Fresh Roots.