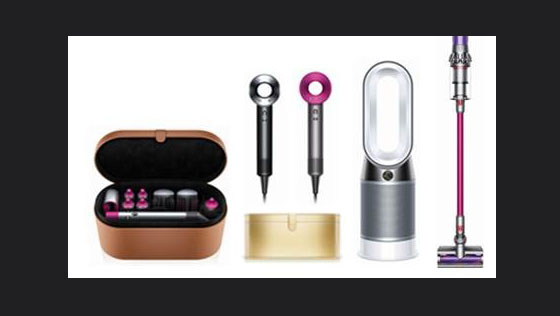 Why not ditch the roses this Valentine's Day and give a gift that will keep your loved one beautiful and healthy in their home, every day.
Dyson Airwrap
Attracts and wraps hair, using only air: The Coanda effect attracts hair to the curling barrel by creating a spinning vortex of air around the barrel that attracts, wraps and curls hair.
No extreme heat: Intelligent heat control helps to ensure hair isn't exposed to extreme temperatures to help maintain the natural shine of hair.
Styles and dries simultaneously: Engineered to style hair from damp, allowing you to save time and avoid the need to apply extreme heat when styling.
Wave. Smooth. Dry: A range of attachments engineered for different hair types and desired looks.
Dyson Supersonic:
Built-in heat protection to protect natural shine: Measures air temperature 20 times a second to prevent extreme heat damage and protect your hair's natural shine.
Designed for fast drying: Powered by the patented Dyson Digital motor, airflow travels out of the Dyson hair dryer at 105 mph for fast drying and has a focused jet of air for precise, simultaneous drying and styling.
Engineered for balance: Designed with the motor in the handle, Dyson has shifted the centre of gravity so it feels balanced in the hand.
Magnetic styling attachments: Rotating magnetic attachments – including the smoothing nozzle, styling concentrator and diffuser, so you can quickly click them on and off during styling.
Dyson Pure Hot+Cool
Multifunctional: Year-round whole room air purification that delivers heating in the winter and personal cooling in the summer.
Senses: A new LCD screen shows the particles and gases the Dyson Pure Hot+Cool™ purifying fan heater is automatically sensing in real time using a unique Dyson algorithm.
Captures: An improved filter system incorporates 60% more HEPA media and three times more activated carbon to capture 99.97% of pollutants up to 300 times narrower than a human hair.
Projects: Only Dyson purifying fans and heaters have Air Multiplier™ technology and now have a larger oscillation angle, up to 350°, allowing you to project air at almost any angle within the room.
Dyson Cyclone V10 Absolute:
Big machine suction power: Powered by the latest Dyson digital motor V10, it's engineered for better cleaning performance with cord-free versatility for floor to ceiling cleaning.
Longer-lasting battery: Up to 60 minutes of fade-free run time so you can clean everywhere.
2-in-1 format: Converts into a handheld so you can easily use it on stairs, upholstery and out to the car.
Drives more dirt from carpets: The new torque-drive cleaner head removes 25% more dust from carpets than previous V8 vacuums.
Gentle on hard floors: The soft roller cleaner head is covered in soft woven nylon to capture large debris, while anti-static carbon fibre filaments remove fine dust.
All available on DysonCanada.ca