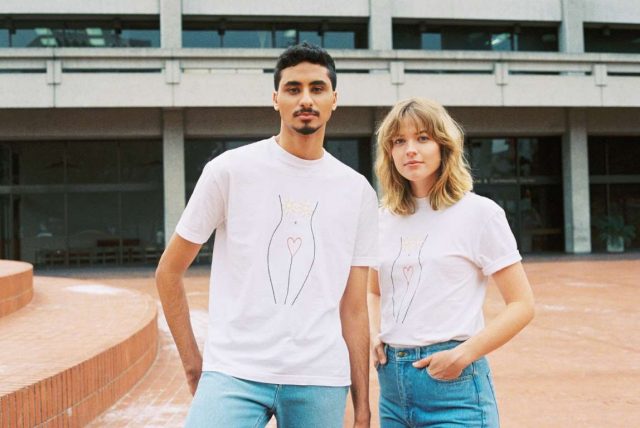 American Apparel is excited to introduce AA X KEUR PARIS, a new collaboration with Paris-based embroidery brand Keur. Designed by Keur founder Eva Bromberg, the new capsule collection features Keur's signature heart-motif embroidery, celebrating inclusivity, tolerance, and love in all its forms on several of American Apparel's bestselling basics.
The Unisex collection includes a Power Wash T-Shirt in White with a playful, embroidered graphic of a woman's body with a heart in just the right place as a celebration of the female form. This Unisex Tee, retailing at $28.00, is available from XS to XL and our hope is that as many men as women will wear it. It is a true feminist statement tee.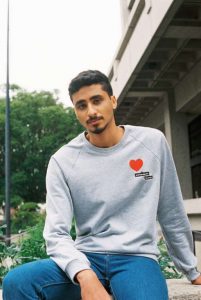 AA X KEUR also includes a California Fleece Pullover Sweatshirts in Heather Grey and in White with a love/balloon in red. Finally there is a sweatshirt embroidered with the Keur and AA logos. And this is indeed a rare piece as American Apparel very infrequently will brand their products. Both sweatshirts are available in an extended inclusive size range from XS to XXL, retailing at $42.00.
The capsule collection also includes two iron-on Patches: a Bear (to represent California) and a rainbow heart balloon (a love note to our LGBTQ+ community), allowing customers to get creative and add Keur's designs to their own garments or accessories. Both Patches retail for $12.00.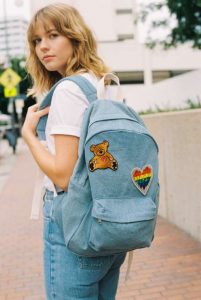 Bromberg says the initial inspiration for her brand was "Love, of course. It started with the heart of my boyfriend, to celebrate three years of love. And now I'm still embroidering hearts of people everywhere." Bromberg adds that "Since I was very young, I have always worn stuff from American Apparel. So it's not just collaboration. It means a lot to me. The first time I received a message from American Apparel France I was very excited, and it was crazy because in less than two weeks, the collaboration was sold out. So now I'm very glad to do it again in the USA. It's very exciting."
This limited-edition capsule collection is available exclusively at AmericanApparel.com beginning February 11, 2019.