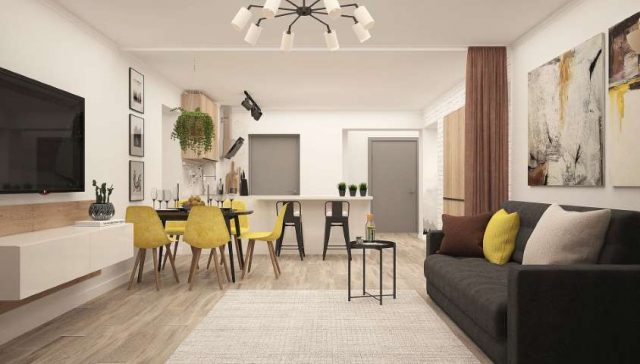 The "right" time for a reno can be elusive between the weather, the kids' schedules and all associated financial stresses, but there's an easier way to get started on your next big (or small) renovation – without all of the anxiety. The 2020 GTA Home & Reno Show, presented by RE/MAX, is back and better than ever, providing all of the products and tips you need to make your reno a breeze February 14 – 17, 2020 at The International Centre in Mississauga.

The show will showcase the best renovation experts, influencers and designers from across the GTA. Learn insider tips and tricks for home and condo renovations and redesign projects, plus get expert advice and one-on-one consultations with reno professionals.
"We're proud to be featuring some of Canada's favourite DIY experts to give consumers the confidence they need to tackle their home renovation projects through hands-on experiences," says Denise Hayward, Show Director. "With over 300 exhibitors showcasing the latest design and décor products, show-goers can walk away knowing what tools are right for specific jobs, how to effectively manage their renovation budgets and when it's time to officially call in a professional."
The show aims to motivate consumers by preparing them with the skills, resources and suppliers they need to complete their next project, whether in a large suburban house or a downtown Toronto condo.
The event takes place over Family Day long weekend, so naturally, special activities will be planned for the little ones. Complimentary daycare will also be available. Admission is free on February 17 for youth under the age of 18.
Here's a sneak peek at what will be featured:
Handyman's Corner
There's always work to be done around the home. Why not try to do it yourself this year? Shawn Monteith, Canada's Handyman, is presenting interactive, hands-on workshops to get you ready to tackle any home project, big or small.
The Bonneville Feature Home
Take a walk through the feature home, built by Bonneville Homes, and you'll be sure to be inspired for your next renovation. Last year's home was designed to bring families closer together, with an open-concept area and more intimate spaces for when privacy is needed. Bonneville's pre-fabricated homes are built in just one week and uniquely designed to fit the needs of the modern family. Stay tuned for what the 2020 feature home will have to offer.
DIY Centre
Want to hang perfectly level pictures? Need to install trim? Not sure how a mitre saw works? Experts in DIY Centre will be onsite and ready to answer all of your questions about DIY renos and home and condo improvements. Still not sure? Get hands-on and take your learning to the next level as experts guide you through the ins and outs of using a variety of tools safely.
Design Intervention
An annual favourite, Design Intervention presented by Reno and Décor Magazine offers free home design advice. Bring in your floor plans and ideas for a one-on-one consultation with design experts from across the GTA.
Show Dates/Times:                Friday, February 14                 10 a.m. – 8 p.m.
Saturday, February 15              10 a.m. – 8 p.m.
Sunday, February 16                10 a.m. – 6 p.m.
Monday, February 17             10 a.m. – 6 p.m.
Pricing:                                    General (18-64)                       $15.00
Senior (65+)                            $13.00
Youth (13-17)                          $13.00
Children 12 & Under               FREE
*FREE Admission for Youth on Family Day (Monday February 17th, 2020)
Venue Name:                          The International Centre
Venue Address:                      6900 Airport Rd.
Website:                                 https://gtahomeandrenoshow.com/