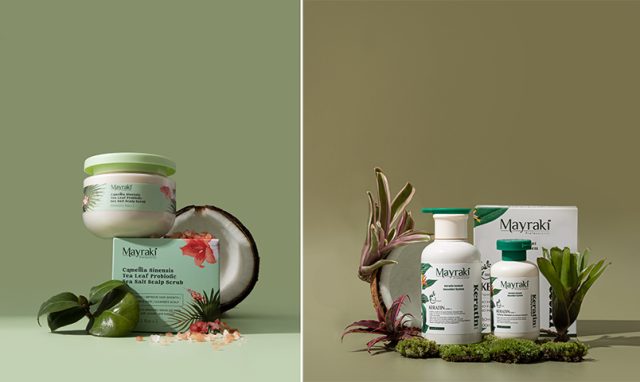 In honor of International Women's Day, Mayraki Professional is pleased to announce the ultimate girl boss gift guide. These stunning haircare products are designed to make every woman feel confident, beautiful, and ready to take on the world. Let's #EmbraceEquity this International Women's Day and celebrate inspirational women everywhere.
Mayraki Camellia Sinensis Tea Leaf Probiotic Sea Salt Scalp Scrub 
Infused with probiotics, Camellia Sinensis Tea Leaf extract, and sea salt, this innovative scalp scrub is perfect for the busy boss babe who needs a little self-care. It deeply cleanses the scalp, removes impurities, and promotes healthy hair growth, leaving hair feeling refreshed and revitalized. The probiotics in this scrub also balance the scalp's microbiome, which can help prevent dandruff and other scalp issues.
Mayraki Organic Hydrolyzed Keratin Instant Smoother System
This smoothing treatment is perfect for any woman who wants to achieve soft, shiny, and manageable hair. Formulated with organic ingredients and hydrolyzed keratin, this system is an excellent alternative to traditional keratin treatments that often contain harsh chemicals. The system includes a shampoo, conditioner, and instant smoother, which work together to smooth hair, reduce frizz, and improve hair manageability for up to six weeks.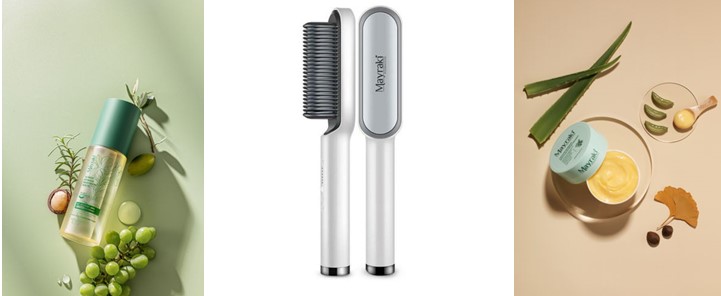 Mayraki Straightening Volumizing Wavy 3-in-1 Styler Comb 
This versatile styler is perfect for the girlboss who loves to switch up her look. With its three interchangeable plates, it can easily create straight, voluminous, or wavy styles. The plates are made with ceramic tourmaline, which helps distribute heat evenly, reduces frizz, and prevents damage to the hair. The styler also features a temperature control function that allows the user to adjust the heat according to their hair type and preference.
Mayraki Ultimate Botanical Moisturizing Hair Oil 
This moisturizing hair oil is infused with organic botanicals and natural oils to restore and nourish hair from root to tip. It contains a blend of nourishing oils, including argan oil, jojoba oil, and castor oil, which help strengthen hair, reduce breakage, and promote healthy hair growth. The botanical extracts in this oil, including chamomile and lavender, help soothe the scalp and promote relaxation.
Mayraki Weightless Essential Oil Nutritive Treatment
Packed with essential oils and nutrients to strengthen hair and promote a healthy scalp, our treatment contains a blend of natural oils, including rosemary, tea tree, and peppermint oil, which help stimulate hair growth and prevent hair loss. The treatment also contains keratin, which helps strengthen hair and prevent breakage. It's lightweight and non-greasy, making it perfect for all hair types.