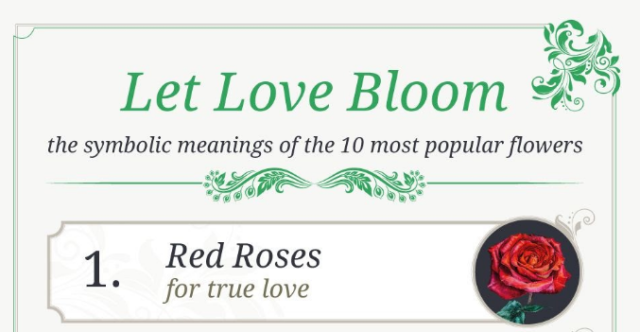 The survey, which was conducted by premium dating site EliteSingles, asked 1300 people for their opinions on the most romantic flowers.
While, somewhat predictably, red roses were voted into the #1 spot, the rest of the top 10 was a diverse bouquet of blooms, containing everything from tulips to lilacs to daisies:
The top 10 most romantic flowers of all time
Red roses
Roses of other colours (e.g pink or yellow)
Orchids
Tulips
Lilies
Wildflowers
Carnations
Peonies
Daisies
Lilacs
According to the survey, 48% of men and 36% of women agree that, along with romance, it's important to pay attention to the symbolic meanings of your flowers.
EliteSingles is here to help on that front: the company has delved into the Victorian love language of flowers and discovered the secret symbolic meanings of Canada's top 10 blooms:
The secret meanings of the most romantic flowers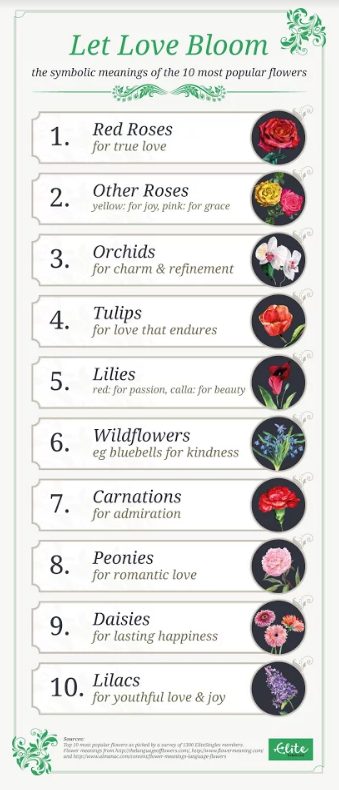 Please note, you can find a larger version of this image here.
Red roses – for true love
Roses of other colours (eg pink/ yellow)
– yellow for joy; pink for grace
Orchids – for charm and refinement
Tulips – for love that endures
Lilies – red for passion; calla for beauty
Wildflowers – e.g bluebells for kindness
Carnations – for admiration
Peonies – for romantic love
Daisies – for lasting happiness
Lilacs – for youthful love and joy
The survey also revealed some interesting statistics about romance and flowers. For instance, the 95% of women who want to receive flowers as a romantic gift are not alone – nearly a third of men surveyed (32%) also yearn to be surprised with a bunch.
This percentage is even higher for millennial men: a huge 42% of men under 30 indicated that they'd like flowers as a gift, along with 39% of men aged 30-40, 34% of those aged 40-50, and just 30% of those aged 50+.
And, in what's sure to be great news for green-thumbed singles, the survey also showed that Canadians have a soft spot for grow-your-own blooms – 69% of people think that the most romantic bunch of flowers is one that is homegrown, while just 31% prefer an expensive bunch from the florist.
Interestingly, this is not the first time Canadian gardeners have seen their hobby deemed attractive: an earlier EliteSingles study of 47,000 Canadian singles saw gardening ranked as the 6th hottest hobby a man can have – for women, it ranked at #9.