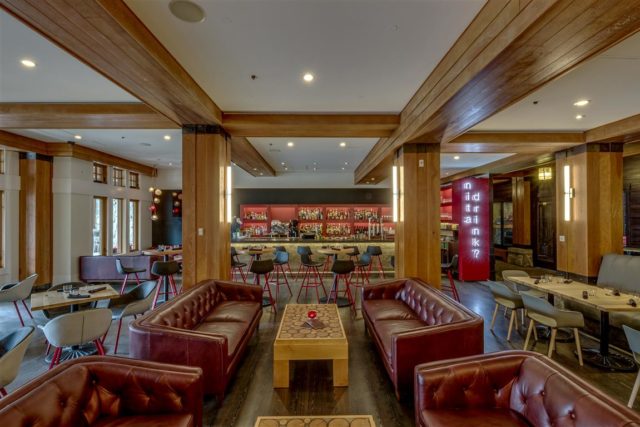 Nita Lake Lodge is thrilled to unveil the re-designed Cure Lounge, which officially re-opened this past weekend. The new space combines architects Scott & Scott's stripped-back Canadiana-cabin style with interior designer Carolyn Scholz's subtle and modern vision to create an open-concept space that perfectly captures the serenity of Nita Lake in a fresh, contemporary design.
"We couldn't be more excited to welcome guests into the brand new Cure Lounge," says Hotel General Manager, Theresa Ginter. "The elegant new design, combining contemporary aspects with natural woods and windows that bathe the space in natural light, offers a taste of what's to come at Aura as we prepare for a full restaurant renovation in the fall."
Experience a sense of alpine living in the new space with softened tones of white and grey that allow the Douglas-fir faced columns to stand out. A rustic wooden bar face and silver fox granite bar top complement the large and iconic fireplace, which is contrasted by a red feature wall to create a bold, yet inviting space. Natural oak tables, splashes of bold colour throughout, and a simplistic approach to the furniture and millwork help maintain a sense of space, with the combination of stone, wood, and modern features speaking to the urban-rustic concept found throughout the food & drink offerings.
To plan your stay and enjoy a freshly made craft cocktail or delicious bites in the redesigned space, please call Nita Lake Lodge directly +1-604-966-5700, toll free from within North America +1-888-755-6482, email reservations@nitalakelodge.com or visit www.nitalakelodge.com.