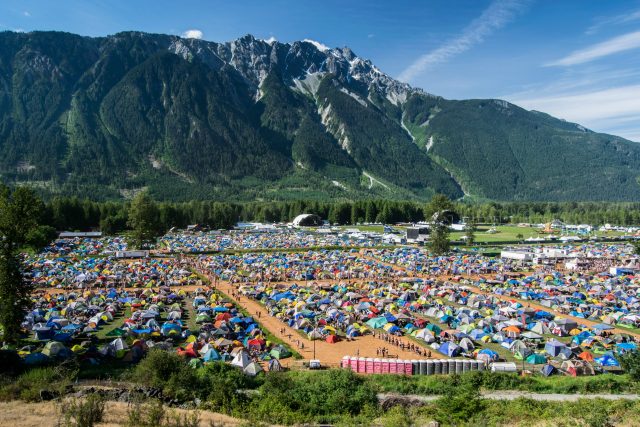 Huka Entertainment is pleased to announce that Pemberton Music Festival, Canada's biggest camping, music and comedy festival, will return for its fourth consecutive year on Thursday, July 13 through Sunday, July 16, 2017. Last year's event drew more than 180,000 fans to the most beautiful place on earth and featured more than 100 performances over four days.
A limited supply of Early Bird tickets, which enable fans to purchase advance festival passes at a discount before this year's lineup is announced, go on sale Thursday, February 23, 2017 at 10:00am PST at PembertonMusicFestival.com.
"For the last four years, the community of Pemberton has opened their arms to help us welcome fans far and wide to experience an incredible musical event in the best place on Earth," says A.J. Niland, Chairman and Chief Experience Officer of Huka Entertainment. "This year we are rolling out various enhancements to super-serve our tens of thousands of campers, including ridesharing, making it easier than ever for fans to attend with their friends."
"At Huka we are obsessed with creating lasting musical moments in majestic settings," says Evan Harrison, CEO of Huka. "Over these past four years, word has spread both within the artist community and with music fans worldwide about what a special experience Pemberton is – the vibe and the beauty. Year four will be the best Pemby Fest yet!"
Early bird ticket prices start at $299 CAD plus the option to buy a camping and parking pass during the early bird period. In the coming weeks, during advance and regular on sales, all campers will be required to purchase a camping bundle that includes 1 to 4 festival passes and either a parking pass or Pemberton's new rideshare option.
For those electing to stay in nearby Whistler where accommodations from the luxurious to the affordable abound, shuttle passes are required to be purchased in a bundle along with festival tickets.
Fans are encouraged to plan early, demand is likely to increase, space is limited and early bird tickets will go fast. The Pemberton Music Festival was ranked as a Top Ten Worldwide Grossing Festival, according to industry trade magazine Pollstar in 2016.
Full ticketing details and 2017 prices are available now at www.pembertonmusicfestival.com
Pemberton Music Festival is a four-day contemporary music festival in British Columbia's scenic Pemberton Valley, near the foot of majestic Mt. Currie. Produced and promoted by Huka Entertainment, in collaboration with the Village of Pemberton and land partners the Sunstone Group, the Lil'wat Nation and Squamish-Lillooet Regional District, the festival turns Pemberton Valley, located less than thirty minutes from Whistler, BC, into a premiere musical playground.
Over the last four years, some of the world's most exciting and successful performers have graced Pemberton's stages, including Pearl Jam, Nine Inch Nails, Kendrick Lamar, Outkast, The Killers, Deadmau5, Flaming Lips, Frank Ocean, Ice Cube, J. Cole, Janes Addiction, Kaskade, Missy Elliot, Modest Mouse, Soundgarden, Snoop Dogg, The Black Keys, The Chainsmokers, Weezer and hundreds of others, and world-class comedians including Cheech & Chong, Maria Bamford, Tim & Eric, Bob Saget, Ali Wong and Nick Swardson, to name a few.