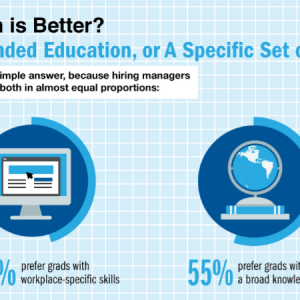 According to studies complied by Northeastern University, there is actually a big gap between what MBA students are learning and the specific skillsets and knowledge companies are looking for in graduates. 39% of companies around the world find graduates require further training before they can perform optimally and fill important positions. The good news is, this gap is being closed by the best online MBA schools available today.
Online courses are adding hands-on learning, multimedia instruments and more specializations to choose from in order to meet the demands of the market. Online MBA students find their degree more valuable than expected because of these new courses and updated MBA programs. On top of that, online MBA courses are more flexible than ever, allowing students to pursue an MBA and expand their skills while maintaining a fulltime job.
To enjoy these benefits, choosing the right school is important. Find out more about how you can do that by reading the full How to Choose the Right School for Your Career Path infographic by Northeastern University.

Northeastern University's Master of Business Administration Online Program
This infographic was created by http://onlinebusiness.northeastern.edu/.