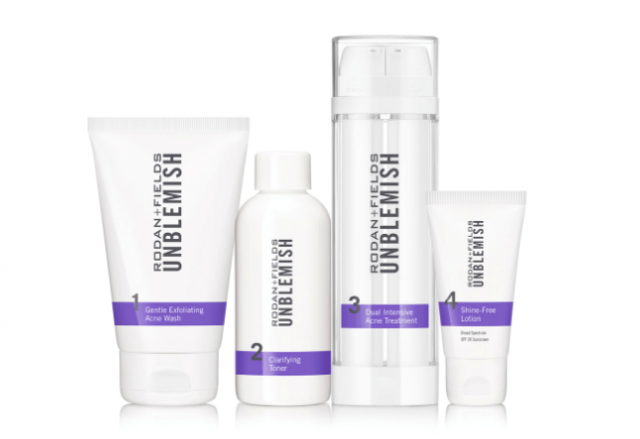 Adult skin can suffer from many age-related skin changes such as adult acne, the slowdown of skin cell renewal, and increased sensitivity. Alongside triggers such as genetics, stress and hormones, it becomes harder for adult skin to combat the adult acne cycle. Rodan + Fields has innovated the acne category with the UNBLEMISH Regimen, formulated specifically to address the complex needs of adult skin while targeting the root of acne before it even starts.
Powered by their Multi-Med Therapy approach, UNBLEMISH leverages four steps to deliver powerful yet mild ingredients. By applying the right ingredients, in the right formulations, in the right order, Rodan + Fields uses a unique proprietary dual-chamber delivery system to create breakthrough formulas that clear current blemishes, reduce redness and prevent new breakouts. While salicylic acid and benzoyl peroxide work to break the acne cycle, hyaluronic acid, aloe vera and green tea extract, soothe and reduce visible signs of aging.
With four easy steps, the UNBLEMISH Regimen provides you with a gentle exfoliating acne wash, a clarifying toner, a dual intensive acne treatment and an SPF.
After eight weeks, participants in a clinical trial saw clearer, smoother looking skin, and 94% saw visible improvements in their acne concerns after four weeks.
UNBLEMISH provides a sophisticated acne solution to complex adult skin with one result – a clearer, healthier and younger-looking complexion! 
Products are available through Rodan + Fields Independent Consultants or at rodanandfields.com and rodanandfields.ca.