Are you looking to make the big switch to clean skincare products but don't know where to start? We've got you covered with 5 of our favourite Canadian-made clean skincare products that are gentle on your skin and your wallet!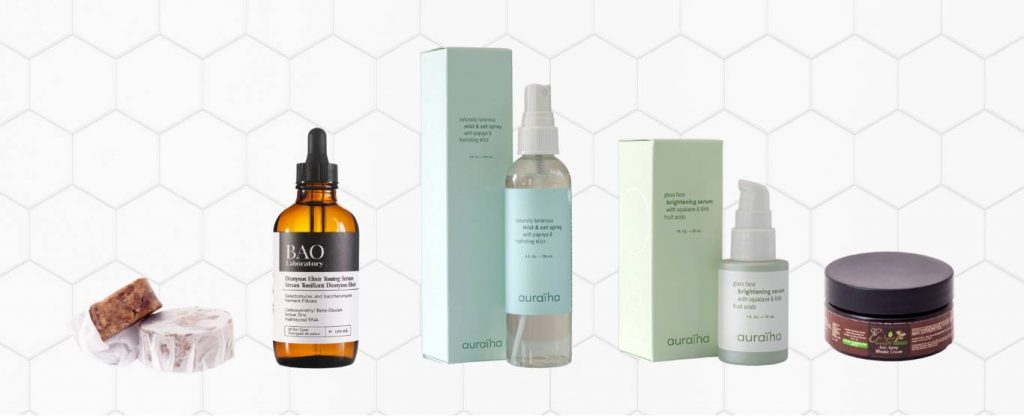 Cleanse with En'tyce Your Beauty – Naturally African Black Soap
High in vitamins A, E, and iron, En'tyce's African Black Soap is made with ingredients like plantain leaf, raw shea butter, and cocoa pod ash that gently cleanses and soothes sensitive skin.
Tone with BAO Laboratory Dionysus Elixir Toning Serum
Gently eliminate dead skin cells to clear the way for the natural ingredients to fully absorb within your skin. Achieve softer and more balanced skin that appears bright and refreshed with BAO Laboratory's Dionysus Elixir Toning Serum.
Hydrate with Auraïha Luminous Mist & Set Spray
The perfect mist for long-term hydration, Auraïha's naturally luminous mist & set spray can be applied under or over makeup. Nourishing ingredients include Aloe leaf juice, papaya extract, cucumber extract and witch hazel.
Brighten with Auraïha Glass Face Brightening Serum
A moisturizing, plant-based emollient suitable for sensitive and blemish-prone skin, Auraïha's Glass Face Brightening Serum contains squalane, AHA fruit acids, aloe, and green tea that will give your skin the glass-like finish you've always wanted.
Moisturize with En'tyce your Beauty – Naturally Anti-Aging Anti-Wrinkle Cream
Nourish, moisturize and soften skin with En'tyce's Anti-Aging Anti-Wrinkle Cream that's infused with evening primrose oil, rosehip, and zinc.