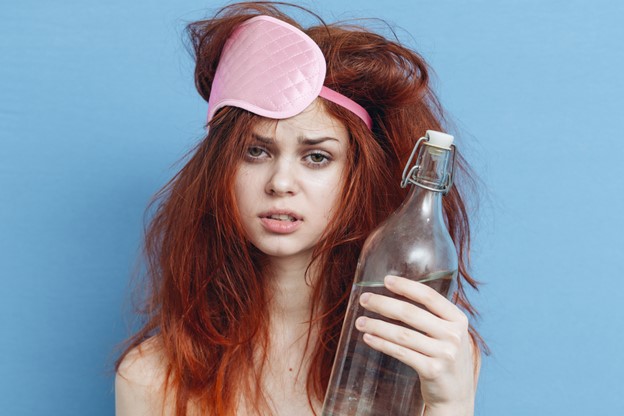 Tis' the season to be jolly. You partied and drank too much the night before and perhaps the one before that. Today, you have a business meeting or brunch with the inlaws.  Although you might feel like you want to crawl into a hole from your hangover, you can't afford to look like you have one.  What is your skincare SOS game plane? We turned to Dr. Manish Shah, a Board-Certified Denver, Colorado Plastic Surgeon for some tricks that will have you looking fresh as a daisy even if they don't cure that queasy feeling and headache.
Remove your makeup the night before
This is a tough one. If you come home stumbling at 3am, this is probably the last thing on your mind. If you can manage to do it, you're one step ahead of the game. If going to the sink is too much effort, use cleansing cloths such as  e.l.f. Cosmetics Hydrating Water Cleansing Cloths.  They easily remove makeup and help nourish the skin with purified water. Infused with aloe and Vitamins B & E, the materials cool on contact and soothe and moisturize skin.
Hydrate
The number one thing alcohol does is dehydrate your entire body, including your skin," says Dr. Shah. "When skin is dehydrated it looks sallow, fine lines are more noticeable, and pores become obvious."
Dehydration is the main reason your skin looks terrible when you wake up. While drinking water is wise, the effects of that internal hydration won't immediately show up externally, says Dr. Shah. For a quick fix, he suggests a sheet mask that contains hyaluronic acid, a molecule that draws moisture to the skin. Try: Estee Lauder Advanced Night Repair Concentrated Recovery PowerFoil Mask
Put your face on ice
Skin redness can be caused by alcohol dilating your blood vessels. One way to reduce this is to put a cold compress on the affected area for a few minutes. But be warned, extended periods of drinking can cause permanent redness and skin damage.
Jade Rollers or Massage
You can use any jade roller (put it in the freezer for a few minutes for a cooling effect) or even just your fingers. Dr. Shah says that the goal is to energize and lift the skin by promoting lymphatic drainage (aka de-puffing).
De-Puff Your Eyes
After a night or two of drinking, the eyes become bloodshot because tiny blood vessels on the eye surface become red and inflamed." Also, the diuretic effects of alcohol can lead to dehydration, which tells your body to hold onto more water weight. That fluid retention also prompts next-day puffiness.
You can purchase a product such as Skyn Iceland hydro cool firming eye gels.  If you don't have something like this in the house,  you can substitute chamomile tea. Steep the tea bags in hot water, take them out until they cool, and put one on each eye for 10 minutes.
Exfoliate
Dr. Shah recommends giving your skin a good but gentle scrub. "Exfoliate off sallow, alcohol-damaged skin cells. You do not need to break the bank to do this. Dr. Shah suggests: St. Ives Invigorating Face Scrub – Apricot. This product can be found online and at most drug stores.
Seal Your Skin With A Spritz- And Not Champagne
After you have done all of the "damage control" you can give you face a final spritz of moisture with a product like Fresh Vitamin Nectar Antioxidant Glow Water.  This energizing spray is packed with skin-brightening nutrients derived from citrus fruit, plus a blend of magnesium and zinc, to help snap sleep-deprived and hungover skin into shape.
Dr. Shah cautions that he does not endorse habitual binge drinking or alcohol abuse. These tips are for those who have overindulged on occasion. Aside from the obvious mental and physical effects of alcohol abuse, it can also cause harmful long term consequences to the skin which cannot be "fixed" by the tips given above.