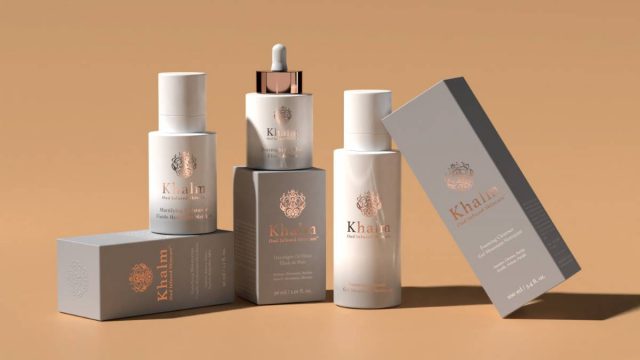 Khalm Skincare, a new line of multi-benefit skincare products launching today, Monday, September 28, 2020 delivers the time-honored signature ingredient, Oud essential oil, in luxury skincare form. Founded by Yasmin Charania Khan, Khalm™ Skincare launches with three foundational products infused with Oud essential oil and thoughtfully selected natural active ingredients to target specific skin concerns. They also help to release the skin from impurities, rebalance the skin's pH levels, provide long lasting hydration, and reassure a harmonious and radiant complexion. Combining South Asian and Arabic cultural influences with French elegance and scientific expertise, Yasmin's vision is to infuse culture with skincare by empowering consumers to redefine their skincare rituals and relish in the deep aromatic scent of the rare and precious elixir, Oud.
From an early age, Yasmin suffered from a condition that caused excessive hair growth and found comfort by applying beauty products with precision to conceal her hair issues. Once cured as an adult, Yasmin focused on skincare and wellness, but was unable to find a luxury product line with her most-loved aromatic and therapeutic fragrance from her homelands of India and Pakistan; Oud. After years of market research, Yasmin began working alongside a French R&D Lab to create Khalm™ Skincare and translate the idea of Oud in luxury skincare.
Khalm™ Skincare's signature launch collection features three core products with clinical results, ideal for maintenance and re-balancing the skin with plans for future product drops. The Foaming Cleanser, Mattifying Moisturizer, and Overnight Oil Elixir are housed in glass bottles with naturally derived ingredients and infused with a man-made Khalm™ Oud Science™ proprietary formulation, the essence of Oud reinvented through advanced skincare. Khalm™ Skincare is cruelty, gluten, and paraben free, vegan certified by PETA, CITES certified which protects endangered flora and fauna, and meets EU (European Union) formulations and manufacturing processes.
Khalm™ Skincare is available direct to consumer at khalmskincare.com.