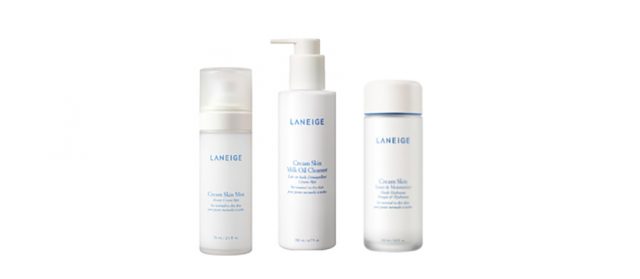 Summer is in full swing and Laneige has what it takes to help survive summer heat and keep any skin types freshly balanced and hydrated!
Spill the secret: White Leaf Tea Water
The Cream Skin collection was born with the ever-popular Toner and Moisturizer innovation – a 2-in-1 hybrid that makes skin petal-soft like a toner, hydrates like a moisturizer and strengthens skin barrier with a special ingredient – White Leaf Tea Water. Grown in the shade and harvested only once a year, the leaves are able to soak up enhanced amino acids to moisturize and soothe! This can be a solution for the super-busy, who could afford to cut down some steps from their skincare routine, for those who have oh-so thirsty skin, used jointly with a moisturizer, or for those who stay 10 feet away from heavy moisturizers because their skin is naturally oily.
The new heroes to the rescue
Exciting news, the collection is growing! Borrowing from the same highly hydrating water extracted from amino acid-rich White Tea Leaves, the new Cream Skin Oil Cleanser and Cream Skin Mist serve different purposes, but still help strengthen the skin's moisture barrier and keep the skin feeling fresh and cleanwithout stripping the moisture.
The Cream Skin Oil Cleanser gently melts makeup and impurities and washes cleanly without a greasy residue so absolutely anyone can feel refreshed without lacking moisture or being left with an unpleasant oily finish. No one is left in the corner!
The Cream Skin Mist doesn't come with a cape but it's a true superhero for normal to dry skin pals! It's a hydration saviour when an on-the-go boost is much needed. It can easily be carried at the beach or on a camping trip and its super-fine mist particles are distributed evenly without forming a wet layer over the skin or even makeup.
Bonus Fresh Tips:
store the Cream Skin Mist in the fridge for a cool hydrating boost when you need it most for those hot summer days and long summer nights
wet cotton pads with Cream Skin Toner and Moisturizer and leave on for about 2 minutes for an instant soothing effect when you've been having too much fun in the sun!
Available at Sephora stores and online at Sephora.ca.