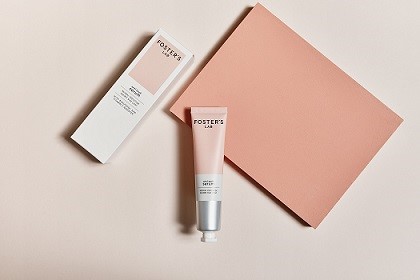 Screen time has increased dramatically during the pandemic resulting in "screen fatigue"; however, this additional exposure to the blue light from technology devices is also damaging the skin. To protect skin from aging due to blue light technology, Foster's Lab has launched its Anti-Tech Serum, which is formulated to help protect against skin damaged caused by blue light exposure from modern technology.
With the growing awareness of skin damage caused by blue light, Foster's Lab is offering clean and preventive skincare solutions to help address this modern-day issue. Research shows the process of blue light penetrating the skin and generating reactive oxygen species leads to cell damage, and thereby, causes inflammation and the breakdown of healthy collagen and elastin, as well as hyperpigmentation.
"When we formulated the Anti-Tech Serum we really wanted to create a powerhouse serum that not only protected from environmental stressors like blue light damage and pollution but also gave visible results in the form of skin's appearance and texture," explains Foster's Lab Co-Founder Anthony Shook. "We knew that much like sunscreen, blue light protection, and anti-pollution are important, but the results are not immediately visible since you're preventing damage, so we decided to also repair and renew."
The formula is specifically engineered to repair damaged skin in the form of collagen production and reduce fine lines and wrinkles. "But we didn't stop there," Anthony says. "With Vitamin C, the serum also has an anti-inflammatory property where it helps to calm the skin while brightening and evening its overall appearance. Brightening helps with hyperpigmentation from sunspots, acne scars and more."
Foster's Lab's Anti-Tech Serum is an innovative formula that is incredibly light and features active ingredients of Cacao Seed Extract, Bakuchiol (a natural alternative to Retinol), and Vitamin C Booster, among the proprietary recipe. The primary ingredient combating damage from blue light is the Cacao Seed Extract. Cacao Seed Extract, containing cocoa peptides, saccharides, and polyphenols, reduces oxidative stress of blue light pollution to protect the skin against digital aging.
"We really wanted to create a powerhouse serum that protected but also produced radiant skin in anyone who uses it," Anthony adds. "We make it possible to enjoy the benefits of technology, without jeopardizing skin vitality."
The Anti-Tech Serum is Vegan, cruelty free, non-GMO, and manufactured in the U.S.A., without sulfates, SLS and SLES, parabens, formaldehyde-releasing agents, phthalates, mineral oil, oxybenzone, coal tar, hydroquinone, triclosan, or triclocarban.