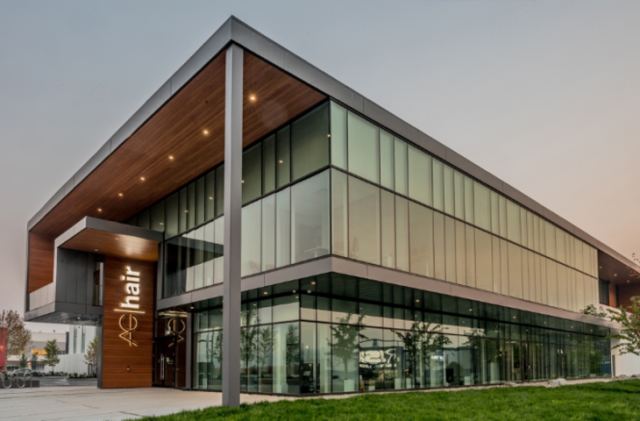 As COVID-19 escalates in Canada, AG Hair is shifting full focus to hand sanitizer production with the goal of supporting health organizations like Vancouver Coastal Health and the Government of Canada during a time of mass sanitizer shortages. The company will also leverage its extensive global manufacturing contacts to source badly needed medical supplies like N95 surgical masks, disposable gloves and other personal protective equipment that meet Health Canada and other recognized health standards.
Production of AG's Hands Free hand sanitizer gel and Hands Free hand sanitizer spray will take place in the state-of-the-art, 70,000-square-foot manufacturing headquarters in Coquitlam, B.C. starting immediately with an expected first delivery mid-April. Certified by Health Canada and the FDA as an OTC (Over the Counter) drug production facility and a Health Canada NHP (Natural Health Product) facility, AG has converted its entire manufacturing capacity and has re-directed staff to fulfil these urgently needed sanitizing products. AG Hair follows strict GMP guidelines with a highly qualified team of R&D and QC/QA technicians overseeing all aspects of production.
Killing 99.9% of germs, both the sanitizer gel and spray are formulated with 73% corn-derived alcohol, exceeding the Centre for Disease Control (CDC) and World Health Organization (WHO) sanitizer guidelines, as well as Vitamin E, glycerin and aloe vera to ensure hands stay smooth and hydrated. The sanitizers are licensed for sale in both Canada and the USA and will be available to the public for purchase through the company website and Amazon.com. In addition to the supply of health authorities, 10% of sanitizer production will go toward supporting front line health personnel and those most vulnerable.
Co-Founder, John Davis, is committed to help. "We have been developing high quality formulas and manufacturing products for the professional hair care industry since 1989. But today we face our biggest challenge as we strive to support the health needs of our overworked medical teams and provide products that will help reduce the spread of this disease."
"Our current social and economic climate calls for ingenuity, adaptability and a willingness to support our community and country – all attributes our team lives and breathes each and every day," said Graham Fraser, CEO of AG Hair. "We are committed to doing our part to help flatten the curve by sourcing medical supplies that are in scarcity and supporting ongoing needs for hygiene and disinfectants."
For more than 30 years, AG Hair has held distinction as Canada's only manufacturer of professional haircare products, successfully positioning itself as an industry authority on award-winning innovation. Founded in Vancouver, Canada by John and Lotte Davis, the company has built a longstanding reputation among industry and consumers for an unwavering commitment to formulate products that are gentle on hair while delivering powerful results. A portion of every bottle sold supports One Girl Can, a registered charity that provides educational opportunities to impoverished girls living in marginalized areas of Africa. For more information, visit aghair.com.