Scott Dickens is a two-time Olympic swimmer and Director of Strategic Partnerships at FORM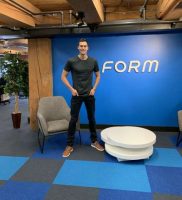 As a swimmer, I'm used to having an entire stretch of pool for my workouts. So naturally, one of the biggest challenges for me during self-isolation has been to adjust my workout routine to not only be completely land-based, but also fit into a much smaller amount of space.
At FORM, we make wearable technology for swimming, more specifically smart goggles that display metrics in real-time while you swim. So suffice it to say, we are all about working out with intention. The same intention can be applied to exercising in a small space. It's definitely doable, you just need to find exercises that can cram high impact into low square footage. 
Luckily, I've found a few exercises that allow me to fit a big workout into a small space.
Tabata
The focus of Tabata is 20 seconds of all-out exercise, and 10 seconds rest. Choose exercises like squats, jumps, push ups, assisted push ups, speed skaters, burpees, lunges, split squats, dips, skipping, jumping jacks, etc. Choose between 4 – 8 exercises. Do 20 seconds on, 10 seconds off – 8 rounds (4 min total)
HIIT – High Intensity Interval Training
HIIT workouts can be done a number of ways. A favourite of mine is selecting 6 exercises and doing 5 rounds. For example, push-up, squats, burpees, core, shoulder press, curls. Do each exercise once, back to back, and then do that 5 rounds through for 30 minutes. For a longer workout, you can increase the total number of exercises or do the workout again with 6 new exercises.
Do 30 seconds on, 30 seconds off or 40 seconds on, 20 seconds off – 5 rounds
Deck of Cards workout
Each suit (spaces, clubs, hearts, diamonds) represents a different exercise, and each suit is 85 reps. Either go non-stop, or take 10-15 seconds rest after each card when needed. Choose four exercises to perform, or do two exercises per suit and divide by odd/even. Eg:

Squats, Pushups, Core, Split Jumps

Squats, dips, push ups, core
A few favourite core workouts of mine include:
Mountain climbers
Plank Variations
Russian Twists
Reverse Crunch
Side Plank
Dead Bug
Obliques
Standard crunch
Standard crunch legs out
Explosive in and outs
V sits
Alternating V-Sits
Leg lifts
Hip Plank – hips up, feet on ground, alternating legs out
Standing up exercises
Bicycle
Body Weight Leg and Arm Workouts
Depending on ability, do 3-5 rounds of 10-20 reps. Or pick 4 and do 50 of each. You can add weight to your workout by holding heavy objects like water jugs, or fill a backpack with heavy objects.
For legs:
Burpees
Jump squats
Jump lunges
Lunges
Explosive Jumping jacks keeping core tight
Squats
Split Squats
Single leg squats
Wall Sits
Walking lunges
Broad Jump
Side to side speed skaters
For arms:
Push up
Push ups diamond
Push ups feet up
Push ups wide stance
Push ups narrow tricep
Push ups split stance
Dips on a bench, chair, stairs
Shoulder press – water jug, fill a backpack
Curls – water jug, fill a backpack
Rows – water jug, fill a backpack
Up-right rows – water jug, fill a backpack
Shoulder Raises – cans of soup, 5-10lb object
Chinups – if have you have the ability with home set up
Lateral raise – cans of soup, 5-10lb object
Bent over back flys- use objects of light weight to 5-10lb