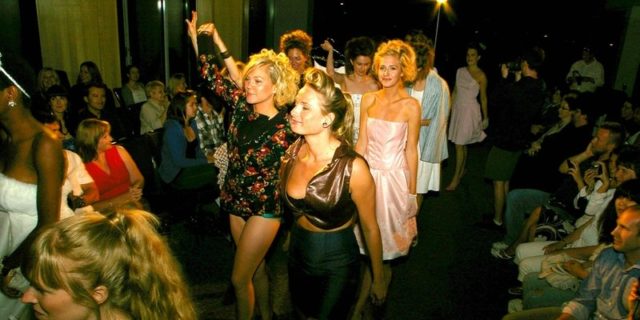 Pacific Design Academy (PDA) is celebrating our Fashion Design students growth and development with an end of year fashion show to benefit the Victoria Foundation Community Fund.
Nine local Victoria designers will show their unique garments and demonstrate what they have learned in the part-time and full-time fashion design programs. Students Olivia MacFarlane and Nicole Rogers will cap off this year's Pacific Design Academy Fashion Show each showing their own unique line of fashion apparel.
"When I was graduating from school, I could hardly have believed this lay ahead!" said first year fashion student, Olivia MacFarlane. MacFarlane entered The Fashion Program at Pacific Design Academy in the fall of 2016 with the foundational skills she brought from her textiles courses at Lambrick Park high school, Victoria. MacFarlane determinedly pursued her fashion studies at the academy and this fashion show is the payoff.
Nineteen year old Nicole Rogers said, "I came to Victoria from Vanderhoof for this program. In preparation I took distance education textiles courses to give me an edge." It was her granny who inspired her skills at a young age. "This year at the academy has allowed me to explore textiles in a deeper way and express my creativity," says Rogers. The Fashion Show will highlight designs from both faculty and students. The show is Wednesday, June 28th, 2017 at the Bay Centre. Tickets are on sale online via Eventbrite and at the Pacific Design Academy.
We would like to invite you to attend this event and offer to have our designers available for an interview if you would like to run a local interest piece. Please add this event to your events calendar.
About Pacific Design Academy:
Pacific Design Academy is the only independent Design College on Vancouver Island offering both Design and New Media Diplomas with the B.C. ministries education
quality assurance (EQA) designation. For over 25 years, the Pacific Design Academy (PDA) has provided private post secondary programs in Interior Design, Graphic Design,
Fashion Design, Building Technology, Motion Picture Production (Film), Photography, Landscape Design and Application & Web Design. Our programs combine Art, Design
and Technology to provide students with current, relevant and practical skills development.
For more information, call 250-383-3631 or email oliver@PacificDesignAcademy.com