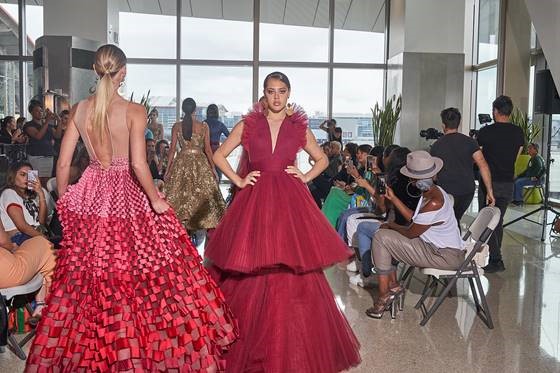 Guests in Tom Bradley International Terminal at Los Angeles International Airport (LAX) were wowed by a first-of-its-kind fashion show, spotlighting designs from international designer Sebastian Gunawan and featuring models and behind-the-scenes talent from the local area. The event featured 25 extravagant couture designs handpicked by Gunawan, a graduate of Los Angeles' Fashion Institute of Design and Marketing (FIDM).
"Los Angeles International Airport is on the leading edge of design and innovation, just like Sebastian Gunawan's couture designs," said Deborah Flint, Chief Executive Officer, LAWA. "With today's first-ever LAX Fashion Show, we are showcasing the dynamism of Los Angeles' fashion scene right here on LAX's own fashion runway and further bringing the spirit of Los Angeles to our guests."
The show was part of the airport's commitment to showcasing local artists who have developed their talents in Los Angeles. Twenty models from L.A.-based agencies strutted the runway wearing luxurious, sophisticated pieces while airplanes and the currently under construction Midfield Satellite Concourse, set to open mid-2020, provided the backdrop.
Gunawan was born in Indonesia and was inspired by his mother's natural flair for fashion. After graduating FIDM, he further developed his talents at Milan's famed Instituto Morangoni. Gunawan, along with his wife Cristina, created and launched his brand in Jakarta, Indonesia.