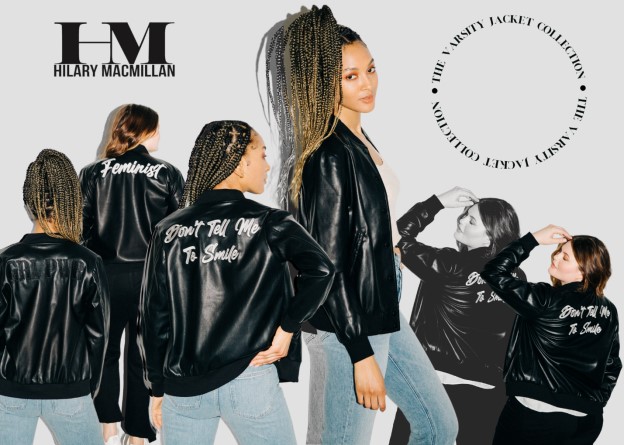 Internationally renowned Canadian designer Hilary MacMillan has re-imagined her iconic Varsity Jacket collection to celebrate International Women's Day 2021, adding an upgraded contemporary flair to the once traditionally collegial pieces. Available as of today, the all-new vegan leather collection honours MacMillan's commitment to her philanthropic endeavours, with a portion of proceeds supporting Black Women in Motion and Up With Women.
"The Varsity collection has been a part of the Hilary MacMillan DNA for the past few years," states Hilary MacMillan, Designer of Hilary MacMillan. "As we evolve, I felt an innate desire to create a more contemporary approach to the traditional varsity jacket – while still drawing attention to the issues and topics women face, and those that I'm so incredibly passionate about."
An added layer to the 2021 re-launch is MacMillan's partnership with Canadian visual artist Sara Taddayon of Montreal's Plum and Coco. Fitting to the brand's core values, Taddayon created a tissue and sticker design depicting a powerful and positive message; "Empowered Womxn, Empower Womxn," which will serve as bold, collaborative packaging for each Varsity item sold; brightening each of MacMillan's direct to consumer orders.
The Hilary MacMillan Varsity Collection first hit the market in 2017, offering powerful sentiments featured on the back of each of the collection's jackets. Throughout the brand's evolution, MacMillan continuously used the collection as a vehicle to address the many issues women face today – including political statements and over-arching globally known topics. The re-release includes the brand's most popular statements, "Feminist," "Don't Tell Me to Smile," – as worn by Victoria Beckham – and "GRL PWR," on the jacket's new vegan-leather body with tonal snaps, available in inclusive sizing XS – 4X adult
Hilary MacMillan has been worn by Kim Cattrall, Alessia Cara, Elisha Cuthbert, and many more.
The Varsity collection is exclusively available on the brand's e-commerce page http://www.hilarymacmillan.com.