by Sylvia Tennant | NICHE lifestyle columnist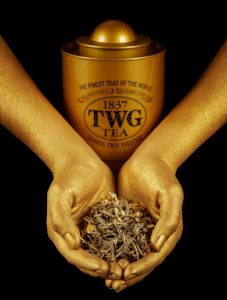 TWG Tea has made its North American debut with the opening of their latest expansion: Vancouver's newest tea salon and boutique. Situated in the heart of Vancouver's downtown core, this mecca of luxury tea culture offers a collection of over 800 varieties of elegant blends and harvests derived from source gardens in every tea-producing country in the world.

The modern resurgence of tea salons is clearly alive and well, as both new and seasoned tea aficionados are flocking in droves to the Canadian flagship storefront. "The biggest luxury in the world is time and this is why tea culture is starting to take root," says Maranda Barnes, co-founder of TWG Tea. "People are accustomed to running around and we're offering a moment to relax. It's catching on."
Vancouver's tea scene has gained a unique space where one can travel with their taste buds. For example, the TWG Tea connoisseur who helped me was quick to note that the white earl grey I was sampling came from a plantation in Fiji. From there, we went to India for Darjeeling (fantastic with salmon), and then to Japan for a plethora of green tea. The intricacy of this cultural voyage extends to the tool – the teacup. It is thin like a wine glass so that the flavors hit the tip of your tongue. The colors and aromas are also present in their tea-infused gastronomy, which includes a full tea service as well as breakfast, lunch, and dinner. "Tea is a millennia old. We use unique teas to introduce a whimsical, fun experience to our salons," says Barnes.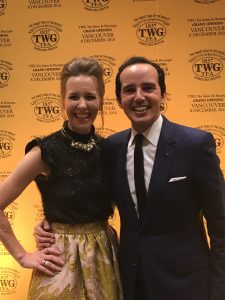 The company's head office is in Singapore and their location is very intentional. Situated between China and India, it guarantees the freshest teas possible (often getting teas from plantations to stores within 3 weeks). "Authenticity is a huge part of the brand," says Taha Bouqdib, president, CEO, and co-founder. "We purchase teas even before they go to auction because of the established connections we've made with plantations." Each blend is created with 15-20 ingredients and TWG master tea blenders have past experience in the luxury fragrance industry. I was thrilled to discover that the roses for TWG teas are sourced from Grasse, France, from the same plantation as Guerlain.
TWG Tea has extended their brand's reach into the world of fashion with the Haute Couture Tea Collection and their involvement in Asian Couture Fashion Week. "We collaborated with a team that brought over couture. It was one of the first times that French couture had left Paris and was showing in Asia," says Barnes. This limited-edition collection of blends launches seasonally six times per year and has introduced their sophisticated lifestyle tea brand to a fashion-conscious market. Their in-house artist, RAM Aron, creates all of the TWG tea artwork.
TWG Tea Vancouver's opening gala left a lasting impression and was attended by supermodel Coco Rocha. From West Georgia street, curious pedestrians can make out the signature canisters of tea that fill entire walls of the stately tearoom. Wonderfully formal, yet warm and inviting, the experience that TWG Tea offers customers is world-class.