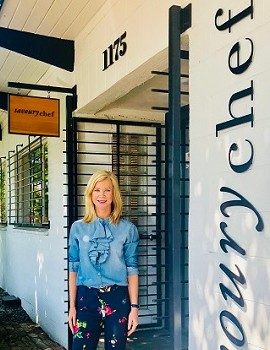 Savoury Chef Foods, a highly regarded Vancouver-based catering and event-planning company, welcomes its new president and owner. Anna Wallner — a multiple-award-winning television personality and producer, journalist, and entrepreneur — recently acquired the company from former owners Kyle Nordman and Taryn Wa.
Anna is perhaps best known as co-host of The Shopping Bags and Anna & Kristina's Grocery Bag, of which she was also co-creator and an executive producer. Her broadcasting career began in Vancouver, where she was a reporter for Global News.
After her most recent series wrapped, Anna decided to study at Northwest Culinary Academy of Vancouver, with a view to acquiring a local food-oriented business. Discovering the work of Savoury Chef and its team, she found exactly what she'd been looking for.
"Walking through the doors of Savoury Chef was like coming home," says Anna. "Sometimes in life, things just click. The timing was perfect, and the team is so ambitious and team oriented — as a group they're very inspiring. Plus, when I tasted the food, I was hooked."
Anna plans to continue fostering the growth Savoury Chef has enjoyed since its launch in 2006. Its consistent success has been based upon offering creative, crowd-pleasing dishes made with the freshest, highest-quality ingredients available — values that are as important to Anna as to the company's previous owners.
Those already familiar with Savoury Chef's exemplary cuisine needn't worry: Executive Chef Geoff Rogers, a part of the company since 2016, remains at the kitchen's helm. Originally from Alberta, he is an alumnus of notable Calgary restaurants including River Café and Market. In 2013, Chef Rogers moved to Vancouver to join the team at Fable Restaurant as Chef de Cuisine. He then took on the role of Executive Chef at Blacktail Restaurant and Lounge, until the restaurant closed in 2016. In addition, he was featured as a competitor on the third season of Top Chef Canada.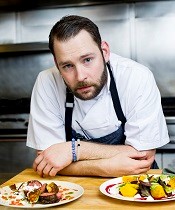 Chef Rogers and his team will continue to fly the flag for local producers, working with BC farmers and purveyors to source the ingredients that feature in every Savoury Chef dish — whether for a small office meeting or a wedding attended by hundreds. A perfect example is the company's new Summer BBQ Menu, including the likes of Fraser Valley baby back pork ribs finished with Chef Rogers' own house-made BBQ sauce, and Farmcrest buttermilk fried chicken. As well, Savoury Chef's recently introduced chef stations ensure something for everyone, including a vegetarian bar, a mac-and-cheese bar, and a poutine bar.
Anna, Chef Rogers, and everyone at Savoury Chef look forward to welcoming new and longtime clients this season, and in all seasons to come.
About Savoury Chef Foods
Savoury Chef Foods began in 2006 as a small-scale caterer. Thanks to the enthusiasm of a loyal and ever-growing client base, it gradually expanded into a high-end catering company and event coordinator, offering a wide array of menus for casual office delivery, and private and public events — from corporate parties to wedding celebrations. Whether innovative cuisine or well-loved classics, Savoury Chef has established a reputation for offering simple yet elegant meals across a range of culinary genres. Visit savourychef.com.