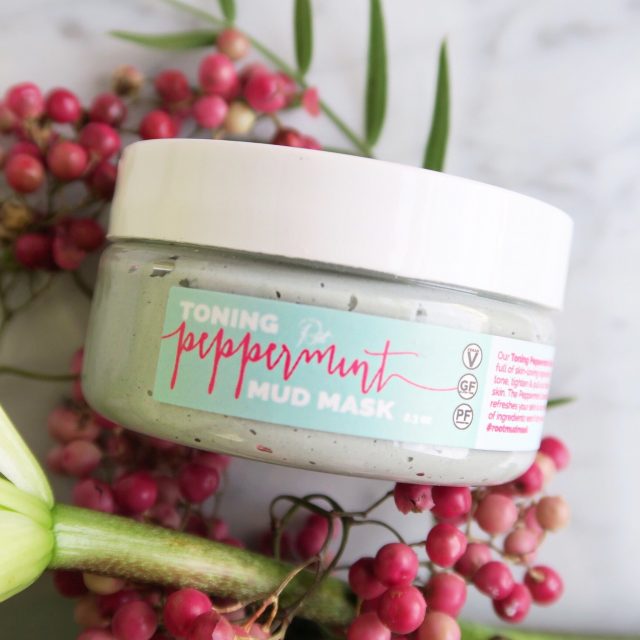 Root was founded on the belief that what you put on your face should be natural, safe & enhance your beauty at a price anyone can afford. Their Toning Peppermint Mud Mask and Pretty Hair Day Glossing Hair Mask will rejuvenate your skin and hair as the seasons change. The Setting Silk and Wanderlust Eyeshadow Palate will freshen-up your look at work for a night out on the town!
The Toning Peppermint Mud Mask detoxifies skin while replenishing and minimizing pores. Activated charcoal, bentonite clay and kaolin clay pull the toxins from your skin and fight acne while pomegranate extract and hyaluronic acid tighten the skin and protect against signs of aging. Soothing and moisturizing organic oils including olive oil and jojoba oil soften your skin. Peppermint essential oil, green tea extracts, and vitamins E, C, B3 and B5 round out the mask's skin-loving power, making this mask an amazing at home spa treatment. Your skin is left feeling refreshed, rejuvenated, and replenished.
Their Pretty Hair Day Glossing Hair Mask provides a deep conditioning treatment & leaves your hair healthy, glossy & strong. Use it as a daily conditioner, deep conditioning treatment, leave-in conditioner or as a styling cream. Root's hair care products are highly concentrated! Where most of the products you are used to using contain water as their number 1 ingredient, they do not use any water at all, because of this you will need to use much less product than you are used to. Safe & highly recommended for color treated hair.
Setting Silk is a product you should never skip! You may have tried setting powders in the past, but nothing compares to Root's Setting Silk. It is a key part of your makeup routine & completes your whole look! Made with Organic Aloe Powder, Setting Silk soothes your skin & sets your makeup, giving you a smudge resistant barrier & extending the life of your foundation. Setting Silk also works to minimize your pores, absorb excess oil, while giving you a soft as silk matte finish.
Root's Wanderlust Eyeshadow Palette is an everyday glam palette, perfect for fall, featuring three brand new Root pressed eyeshadows: Roxy (a light satin golden), Farrah (the most perfect medium warm brown tone) & Kat (a rich and velvety warm brown).
All of Root's products are natural & safe for all skin types as well as Vegan & Gluten Free. They do not use any harsh toxins or artificial dyes in their products. They believe natural products don't have to be boring or less effective to be safe. They offer a huge variety of colors & products all boasting professional quality.
Root products are made especially for sensitive skin but perform to the quality of professional products. They use only the best certified organic & natural ingredients & none of the commonly used fillers. By removing harsh fillers, Root products are made with just the amazing ingredients you want.
Root is a proud USA based company. All of their suppliers are based in the USA & the majority of their packaging & supplies are made in the USA.
Root is an independent company and they are 100% cruelty free! They only test their awesome products on themselves, not our animal friends.
For more information, visit www.rootpretty.com.