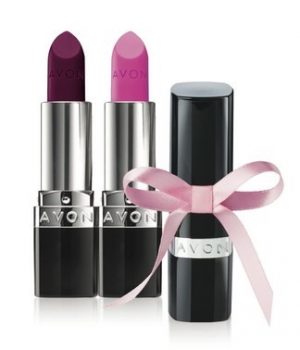 Imagine if a lipstick could boost self-esteem and offer a woman the confidence to achieve her potential. It can and it does. The origins of lipstick can be traced back to 3,500 B.C. and the product remains a staple in beauty routines to this day. Small but powerful, lipstick can change a person's mood, give a boost in stressful situations and increase confidence.
This June, Avon Canada is inviting Customers to discover the power of lipstick by providing Canadian women seeking employment, the opportunity to make a fresh start. For every two Avon True Color Lipsticks purchased from Avon's Campaign 14 and 15 Brochures (June 14 – July 18, 2018), the company will donate a full size lipstick to Dress for Success, a non-profit organization that empowers women to achieve economic independence. Dress for Success provides a network of support, professional attire and the development tools to help women thrive in work and in life.
"The empowerment of women is at the heart of what Avon and Dress for Success are all about. It makes for a perfect partnership," said Kathryn Babcock, Director of Dress for Success Canada.
"Every woman deserves to feel good about herself," said Roberta Lacey, Director of Marketing for Avon Canada. "Sometimes, all it takes is a kind gesture from another woman. Knowing that you can make a difference simply by purchasing lipstick is a wonderful way to shop and share. This is an incredible opportunity for Canadian women to rally together to empower others. "
Avon's goal is to put a True Color Lipstick in the hands of every woman benefitting from Dress for Success services this year. True Color Lipstick is available in 70 shades and offered in three formulas: matte, bold or nourishing. While True Color Lipstick regularly sells for 10.00, Avon will offer the lipsticks at a special price of 2 for 9.99 for the duration of the campaign. The offer is available for a limited-time through Avon Independent Sales Representatives or at www.avon.ca.
About Avon
New Avon LLC ("Avon") is the leading social selling beauty company in North America, with independent sales Representatives throughout the United States, Puerto Rico and Canada. Avon's product portfolio includes award-winning skincare, color cosmetics, fragrance and personal care products, featuring iconic brands such as ANEW, Avon Color, mark. by Avon, and Skin So Soft, as well as fashion and accessories. Avon has a 130 year history of empowering women through economic opportunity, and supporting the causes that matter most to women. Together, Avon and the Avon Foundation for Women have contributed over $1 billion globally toward eradicating breast cancer and domestic violence. Learn more at www.avon.ca.
About Dress for Success
Dress for Success is an international not-for-profit organization that empowers women to achieve economic independence by providing a network of support, professional attire and the development tools to help women thrive in work and in life.
Since 1997, Dress for Success has expanded to more than 150 cities in 30 countries and has helped more than one million women work towards self-sufficiency, helping to fund programs, shelters and share the best approaches to ending violence against women, moving low-income women out of poverty and building strong, resilient girls. To learn more, visit www.dressforsuccess.org