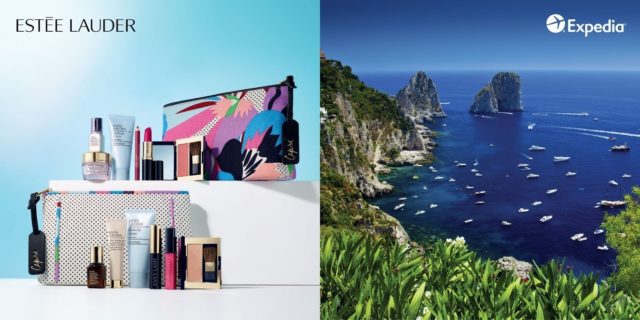 Estée Lauder, a leader in prestige beauty, and Expedia.com®, one of the world's largest full-service travel sites, today announced they will work together and offer customers the opportunity to enter for a chance to win an experience of a lifetime to one of many exotic destinations that inspired the Estée Lauder North America Spring 2018 Gift-With-Purchase collection. The announcement marks the first time Estée Lauder is teaming with a travel brand to provide customers a new and exciting way to experience the beauty products they love.
"We are thrilled to work with Expedia on this exciting initiative," said Senior Vice President, General Manager, Estée Lauder North America, Lisa Sequino. "As a brand, we are committed to creating meaningful experiences for our customers and this collaboration allows us to offer a unique opportunity combining beauty and travel."
The Estée Lauder Spring 2018 Gift-With-Purchase Program is inspired by Founder Estée's love of travel and the destinations that inspired her color collections. The essence of eight dream travel destinations are captured including Morocco, Bali and Capri. Customers will receive an exclusive printed cosmetic bag combined with a curated selection of best-selling product samples, free with a qualifying purchase.
"At Expedia we know that travel is such an enriching and integral part of life, which is why we strive to help people get away and see the world," said Senior Vice President and Head of Retail for Brand Expedia, Gary Morrison. "We're excited about this unique opportunity to collaborate with Estée Lauder because of our shared desire to offer customers the chance to experience, and be inspired by, the beauty of travel."
How to Win a Dream Trip
Now through May 13, 2018, customers could win a trip of a lifetime from Estée Lauder and Expedia to one of eight ultra-exotic destinations. To enter each contest, visit any participating department store retailer in the U.S. and Canada to receive an exclusive gift from Estée Lauder, free with a qualifying purchase of $37.50 USD/48.20 CAD or more. Then share an original selfie of your best dream trip destination makeup look on Instagram with the hashtag #esteexexpediacontest along with the contest's unique hashtag, for example #flymetobali, #flymetopalmbeach. Lastly, tag @esteelauder and @Expedia to enter to win. Customers can also enter the contest by submitting an email to each unique contest, for example FlyMeToBali@estee.com, FlyMeToPlamBeach@estee.com.
Dream Trip Destination

Participating Retailer

Contest Entry Period

Bali

Lord & Taylor

December 23 – January 23

Palm Beach

EsteeLauder.com

January 18 – February 16

Santorini

Santorini

Dillard's

Hudson's Bay (Canada)

February 7 – March 6

February 21 – March 18

Capri

Macy's

March 6 – April 1

Bali

Von Maur

March 26 – April 22

Tahiti

Bloomingdale's

March 27 – April 23

French Riviera

Belk

March 28 – April 25

Morocco

Nordstrom

April 17 – May 13

Riviera Maya

Bon Ton

April 16 – May 13
A limit of one (1) entry per person will be accepted during each Contest Entry Period. All entries must be posted or submitted by the conclusion of the Contest Entry Period. The Contest Entry Period indicates the dates through which customers can submit their photographs via social media or email; this period is one week longer than the Spring 2018 Gift-With-Purchase is available at the participating retailers listed. To learn more about specific details and rules, visit Estee Lauder's website and the Expedia Viewfinder blog.