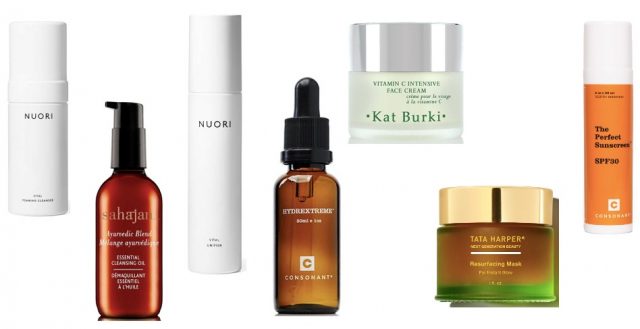 A new year is a great opportunity to looks at updating your skin care. Here are our 6 essential steps for any skin care regimen.
1. CLEANSE
This is your first step for cleansing at night to remove makeup, dirt, oil, and residual pollutants and sunscreen. Double cleanse if needed.
Sahajan Essential Oil Cleanser orNUORI Vital Foaming Cleanser
2. TONE
Spray into yours hands, and press into your skin after cleansing your face, in the morning, it will help to seal the cleansing phase and prepare your skin for the next steps.
3. HYDRATE
Whether you are using a cream or a hydration serum, our cold winters demand more hydration. For creams, apply after your serums but for any hydration serums, apply on damp skin after the toner, it will add an extra hydration for every skin type in the morning and/or night.
Consonant HydrExtreme Hydration Booster
4. ANTIOXIDANT SERUM
An important step in any anti-aging regimen this helps protect the skin from environmental toxins – apply to both neck and face.
Kat Burki Vitamin C Intensive Face Cream
5. EXFOLIATE
If you want to keep your skin healthy and glowing in the year ahead resolve to regularly exfoliate your skin. Exfoliation acts as a detox as it helps to clear the toxins from your skin and refresh circulation.
6. SUNSCREEN
The most important step in your daily routine. We always suggest a physical sunscreen and Consonant has a natural sunscreen with an SPF 30, the final step in your morning routine.