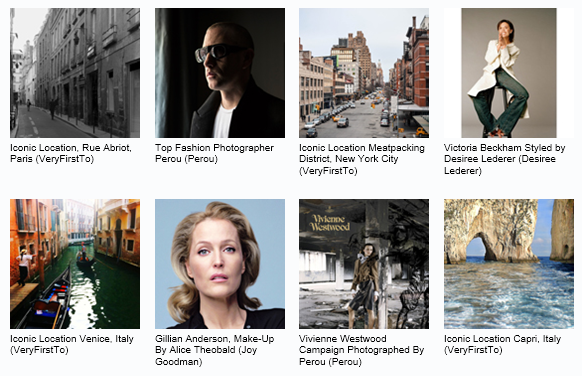 VeryFirstTo in association with luxury fashion outlet district Hackney Walk, exclusively present the unprecedented opportunity to live like supermodels on a remarkable two week trip. The couple that purchases this sartorial sojourn will be photographed in six of the most famous fashion shoot locations in the world. Top fashion photographer Perou who has famously photographed Naomi Campbell, David Gandy, Vivienne Westwood, President Clinton, David Beckham and Justin Timberlake, was the star Channel 4's Dirty Sexy Things as well as being a judge and mentor on the US and UK versions of Make Me A Supermodel will be travelling with the couple capturing a spectacular image in each place.
You will begin the trip at Hackney Walk meeting Desiree Lederer stylist to fashion icons including Victoria Beckham and Rihanna who will style you with items from luxury brands housed in London's first fashion outlet district including Acquascutum; MATCHESFASHION.COM (home to Balenciaga, Gucci, Saint Laurent, Valentino, and Dolce & Gabbana); Joseph; Anya Hindmarch; Nicole Farhi; Pringle Of Scotland; Gieves & Hawkes; and Zadig & Voltaire.
In London you will be photographed on the mews made famous by Kate Moss in the classic Burberry ad campaign. After a first class Eurostar trip you will be shot on the iconic Rue Aubriot in Paris, the site for Saint Laurent's iconic Le Smoking ad in 1975.
From Paris it is off to Italy where you will be photographed in Venice, where Karl Lagerfeld has shot his campaigns on a gondola and Diesel shot its evocative 2003 ad campaign. A boat ride will take you out to Capri, where David Gandy set hearts a flutter for Dolce & Gabbana.
Fashion photographer Perou says the next location, Manhattan, has been the site for many iconic photos including the 1990 Vogue image of the world's supermodels including Cindy, Naomi, Linda and Christy.
Your final stop will be in the magnificent Turks and Caicos Islands where Christy Turlington writhed in the surf till Eternity for Calvin Klein.
This is simply a dream trip for any fashion and photography lover. You will have a supreme Supermodel experience: from strutting in the magical locations, and posing for a photographer to the stars, to being styled and pampered by the stylist and celebrity hair and makeup artist Alice Theobald who has worked with the likes of Lindsay Lohan and Idris Elba.
You will receive 6 beautifully framed prints to remember this never done before luxury fashion experience as well as a digital portfolio of images.
The magnificent trip is organised by luxury travel company Hurlingham Travel.
DETAILS
The fortnight long trip can be taken at any time during the year, however, it is recommended that as much notice is provided so as to co-ordinate the team.
The Itinerary is based upon departure from London, however the trip can be started anywhere with London being the first stop. This may incur additional charges.
The £170,100 is per couple. Single person occupancy is available but will carry a single person supplement. The trip includes Tour Guides, Business Class international flights, Premiere Eurostar, Junior Suites (where available) six full outfits from Hackney Walk, chauffeurs, transfers and taxes.
Note that the professionals, locations, and hotels are all subject to availability for the fortnight requested.
Exchange rates are an indication.
Accommodation Itinerary 
London – 4 Nights
Number Sixteen (South Kensington)
London to Paris – 2 Nights
Le Meurice (Near Rue St Honore)
Paris to Venice – 2 Nights
Luna Baglioni
Venice to Capri – 2 Nights
Overland by train to Naples
Private Motor Yatch return trip to Capri
Capri Tiberio Palace
Capri to New York – 3 Nights
Mandarin Oriental
New York to Turks and Caicos – 3 Nights
West Bay Club
(16 Nights total)
Hackney Walk
Hackney Walk, Morning Lane E9, London's first Luxury Outlet and a major urban development is re- energising an area with unmistakable historical links to the fashion industry. The area was already home to a small cluster of premium outlet stores including Anya Hindmarch, Burberry (located in the site of its original factory), Aquascutum, and Pringle of Scotland. Twelve formerly unused railways arches join them, which have been converted into beautiful retail spaces by renowned British architect David Adjaye. These arches are occupied by an array of luxury outlets including: MATCHESFASHION.COM – womenswear and menswear, Gieves & Hawkes, Joseph, innovative concept store Present, luxury cashmere brand Colombo, Zadig & Voltaire, Folli Follie, BLK DNM, Wolsey and Nicole Farhi. The arches are flanked by two side units one of which is a Nike outlet. All retailers offer up to 70% off.
Perou
Perou is an internationally renowned British photographer whose work has been featured in global publications including American Esquire, British GQ, Vanity Fair, Rolling Stone, British Vogue and Flaunt.
He has photographed many famous faces including Dita von Teese, Naomi Campbell, Zoe Saldana, Gillian Anderson, Amy Adams, Dame Helen Mirren, Claire Danes, Vivienne Westwood, Sienna Miller
Ryan Gosling, Justin Timberlake, Damien Lewis, Matthew McConaughey, jay Z, Viggo Mortensen, Jeff Bridges, David Beckham, David Gandy, Lewis Hamilton, Kofi Annan, President Bill Clinton, Russell Brand, Idris Elba and Daniel Radcliff
He is Editor-in-Chief of EDICT magazine, star of channel 4's 'dirty sexy things' and judge and mentor of 'make me a supermodel' UK and USA.
Desiree Lederer
Desiree is a well-established London-based Fashion and Celebrity Stylist who has styled many A list names including Scarlett Johansson, Daniel Craig, Twiggy and too many to mention.
With years of experience in most areas of the fashion industry, she continues to work on an array of projects from high fashion editorial to commercial advertising, including beauty/hair shoots, fashion and TV shows as well as films. She has often teamed up with many illustrious photographers like Perou. art directing and consulting are other strings to her bow.
Desiree combines the commercial with the creative, demonstrating a signature style of decadent chic, without precluding other styles. She has a passion for timeless imagery whilst being up to date with the ever-changing market and technology.
Alice Theobald
Alice Theobald has enjoyed a meteoric rise to fame and has worked with supermodels, celebrities and royalty including HRH Princess Beatrice, Idris Elba and Lindsay Lohan. Along with editorial for top magazines, Alice works for TV and her advertising client list extends across many top luxury brands from Graff to Moët & Chandon. Alice is a recognised beauty expert and has written features for Hello! Magazine online. She is currently the global brand ambassador for Ark skincare and on The British Master Barbers team.
Contact http://www.veryfirstto.com/never-done-before/star-in-fashion-shoots-by-top-fashion-photographer-at-6-global-iconic-locat/