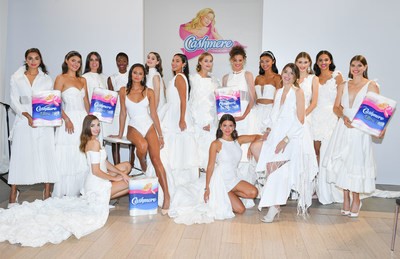 A stunning showcase of talent, the 16th annual Cashmere Collection debuted before a packed-out audience of fashion industry insiders, influencers and the media at Toronto's Globe and Mail Centre, on September 25
Starring 16 top Canadian designers and their vision of a future without breast cancer, this year's landmark collection pays tribute to the Legends of Fashion, and their influence on the world of design, all crafted in luxuriously soft Cashmere Bathroom Tissue, Canada's best-selling brand.
Curated by Canadian-born, L.A.-based fashion authority, and TV personality, Joe Zee, the exclusive, invite only event was hosted by CTV News anchor Marcia MacMillan and featured a moving performance by award-winning Canadian singer and breast cancer survivor Bif Naked, in addition to the spectacular runway show.
Legends of Fashion, Icon Inspired
The annual kick-off to October Breast Cancer Awareness Month, the Cashmere Collection has showcased close to 200 Canadian designers to date and has raised millions of dollars for the breast cancer cause throughout its 16 years.
This year's collection honours The Legends of Fashion — the elegant, bold and forward-thinking designers who pushed boundaries and forever changed the way we wear clothes. Dior, Valentino, Yamamoto are just three of the big names who inspired this year's #Cashmere19 designers.
The Cashmere Collection designer lineup includes:
Ryan Alexander, Ontario, inspired by Valentino
Arti Gogna, Quebec, inspired by Versace
Adrienne Goodine, New Brunswick, inspired by Hubert de Givenchy
Lesley Hampton, Ontario, inspired by Christian Siriano
Sarah Haunts, Ontario, inspired by Zac Posen
Jillian Joy, Ontario, inspired by Christian Dior
Steven Lejambe, Ontario, inspired by Alexander McQueen
Chavah Lindsay, New Brunswick, inspired by Vivienne Westwood
Stephanie Moscall-Varey, Ontario, inspired by Yohji Yamamoto
Sage Paul, Ontario, inspired by Thierry Mugler
Rebecca Rowe, Ontario, inspired by Diane von Furstenberg
Sarah Runnalls, British Columbia, inspired by Junya Watanabe
Dee Silkie, Ontario, inspired by Balmain
TOMÉ, Ontario, inspired by Jean-Paul Gaultier
Joan Kelley Walker, Ontario, inspired by Stephan Caras
Alex S. Yu, British Columbia, inspired by Maison Martin Margiela
Produced by Kruger Products, maker of Cashmere Bathroom Tissue, the Cashmere Collection is a heartfelt display of the brand's commitment to nurturing Canada's fashion industry, while inspiring Canadians to support and contribute to the breast cancer cause.
Nothing Feels Like Making a Difference
The annual Cashmere Collection heralds the return of limited-edition Cashmere Bathroom Tissue in support of breast cancer efforts. Twenty-five cents from the sale of every specially-marked package (up to a maximum of $35,000) goes directly towards breast cancer efforts at the Canadian Cancer Society, throughout the month of October.
Canadians are also invited to help Cashmere make a difference, by taking part in Vote Couture for the Cure® at Facebook.com/Cashmere throughout October. Cashmere will donate $1 for every vote (to a maximum of $10,000), to the CCS's breast cancer efforts in the winning designer's name. Voters can return daily between September 26th, 2019 and October 26th, 2019 to be entered into a draw for the chance to win a shopping spree valued at $1,500.
"The Cashmere Collection encourages Canadian fashion design while providing much-needed support to a worthy cause that we are proud to put our mark behind," says Nancy Marcus, Chief Marketing Officer at Kruger Products. "Raising awareness and funds for breast cancer research is integral to this initiative and we are delighted to be among the top five partners supporting the breast cancer cause at the Canadian Cancer Society."