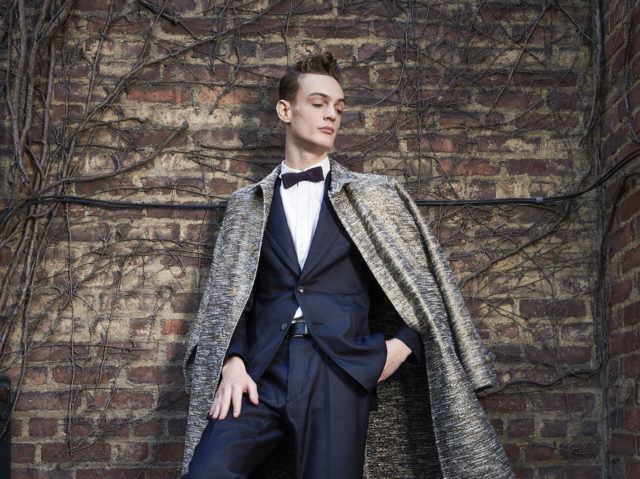 HIROMI ASAI, New York-based rising fashion brand, designed by Hiromi Asai, who made her runway debut for her women's collection at New York Fashion Week in 2016, presented her menswear collection at Pitti Uomo and Capsule Show in 2017. For the Autumn/Winter 2018-2019 season, HIROMI ASAI presents a new collection at Capsule Show New York Men's AW18, held at Pier 94 in New York on January 23-25, 2018.
The theme of the new HIROMI ASAI collection 18-19 A/W is "Baron." Its design concept is menswear for a baron who lives in a corner of New York Manhattan. The collection consists of suits, jackets, coats, shirts, bottoms and ties, for both casual and business settings (http://www.hiromiasainy.com).
One of the highlights of the HIROMI ASAI menswear collection for this season is a golden-black coat "Venus," which was woven with the traditional Japanese Nishijin-ori brocade technique, mainly used for manufacturing Obi sashes (belts). This coat makes an ambiguous outfit: gorgeous and chic. HIROMI ASAI also provides a wide range of jacket collections for this season. One of them is a silk jacket "Starry Night," which looks similar to a tweed jacket, but was made with hand-woven silk textiles using hand-dyed wide thread. All textiles of the HIROMI ASAI collection were woven and/or dyed in workshops all over Japan, using traditional Kimono manufacturing techniques.
"This is my third season for our Men's collection. We always try to revive the essence of Japanese Kimono for the modern fashion on the world market. For this new collection, I am convinced that we can develop luxurious and sophisticated menswear, more suitable for a worldwide market, without sticking to Japanese design motifs," said Ms. Asai.
HIROMI ASAI will also display several shoes that fit into the new collection, made by H.KATSUKAWA, a unique leather shoe maker in Japan.
"We would like to propose men's fashion styling from head to toe. This time we can proudly display a shoe collection that fits to our collection, with the cooperation of H. KATSUKAWA," said Ms. Asai.  "The art of Kimono creation is still on the verge of crisis. I desire to bring the HIROMI ASAI collection made by Kimono textiles to its rightful forefront in world fashion. Please come to see our new collection at Capsule Show."
DETAILED INFORMATION

Exhibition Name: Capsule Show New York Men's AW18
Venue: Pier 94
Address: 711 12th Ave, New York, NY 10019, USA
Booth No: b13
Duration: January 23-25, 2018