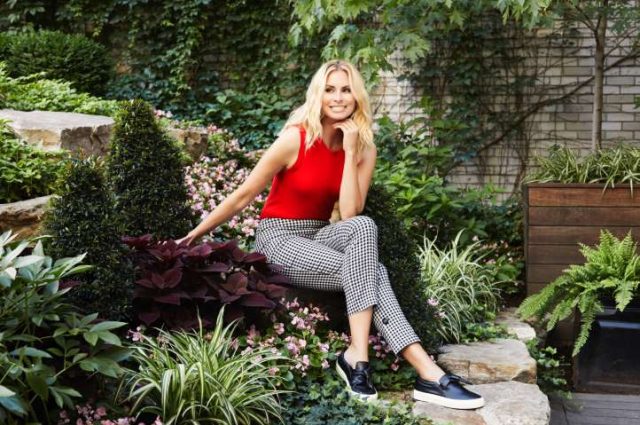 Celebrate the warming weather with the incredible pants that blend fashion, function and fit, with UP! Pants' new 'Spring Romance' (S/S '19) collection available now!
Enjoy a multitude of colorful and fun new styles in the pants that make every woman feel fabulous. The Montreal-born brand is also thrilled announce that supermodel and icon Niki Taylor will be returning as the face of their Spring/Summer '19 collection. A real-life embodiment of what UP! aspires to achieve: inner beauty, warmth, and confidence; UP! is honored to share their efforts in making every woman blossom with confidence this Spring with Niki.
Let your Spring Romance bloom and blossom with UP! Pants and Niki! The Spring/Summer '19 Collection is an amazing mix of bold and fun colourful prints, combined with geometric and textured jacquard patterns. From bright orange sunflowers, to soft black & navy toiles, pastel floral arrangements and vibrant micro florals, the choices are endless! This collection places a greater emphasis on color and prints that pop, while also including the styles UP! is known for with side slits, petal slit detailing, boot cuts, straight legs and more!
The upcoming collection also marks the return of their luxury Cavalli twill fabric, designed in pastel tones including; dusty rose and blue – injecting a soft feminine feel into the design. Furthermore, the brand's luxury Roma fabric will now come in a gaucho, the perfect trans-seasonal pants! Lastly, with the popularity of their denim collection, UP! Pants has added a white crop! It's safe to say that there's tons to look forward to this season!
Spring/Summer '19 will be UP! Pants' second collaboration with Niki. As creative director Jacqueline Harris explains: "Niki is a timeless beauty she is just as beautiful now at 43 as she was at 16, 22, and 32! She never goes out of style which epitomizes exactly what UP! Pants is all about. We, like Niki, are not a fad."
Since its development in 2014, UP! Pants has been revolutionizing the fashion world, by merging function and fit with its transformative pull-on pants. A brand designed to empower women and make them feel confident in who they are, UP! Is now available in over 600 stores across Canada.
UP!'s pull-on pants breakthrough THINCREDIBLE FITTM technology works by using materials that stretch perfectly and comfortably to conceal any imperfections. The contour stretch waistband gives everyone's middle the most flattering look. It's built-in front panel slims and flattens in comfortable ways. Whether it be to a meeting, a night-out with friends, or a casual weekend at home, enjoy the look and feel that makes every woman feel perfect in her pants!
The company that manufactures the best feeling and best looking pull-on pants for women, UP! Pants continues to make women feel beautiful inside and out with their new collection. Let your Spring Romance bloom in all its shapes and sizes with UP! Pants' Spring/Summer 2019 collection!
Additional Information:
Website: http://uppants.com/home
Instagram: https://www.instagram.com/uppants/
Facebook: https://www.facebook.com/uppantsmontreal
Find a store near you: http://uppants.com/findastore