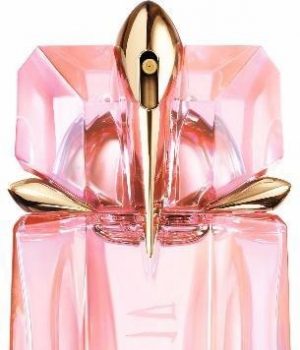 Alien Flora Futura
Alien Flora Futura is the symbiosis between the crisp, green freshness of Buddha's Hand, an aromatic citrus, and the extraordinary rarity of the Queen of the Night, vanilla cactus, flower that only blooms for one night. The creators of this fusion, Dominique Ropion and Jean-Christophe Hérault, have successfully merged crisp freshness, floral of the future and enveloping creaminess into one olfactory creation. It is expressed in three revelations: Crisp Revelation, Flower of the future Revelation and Creamy Revelation.
The Bottle
Alien Flora Futura is contained within a talisman-like bottle featuring original architectural shapes, which encapsulates this incredibly precious flower of the future. It has changed its hue, departing from the amethyst tones of the iconic bottle to embrace an even more feminine orangey-pink to evoke the dawn sky. The prelude to a kinder, more optimistic day during which everything becomes possible: loving, believing, dreaming and being true to oneself…
Mugler Alien Flora Futura Eau de Toilette Available at Hudson Bay, Sephora, Shoppers Drug Mart, Jean Coutu, Murale and Nordstrom.