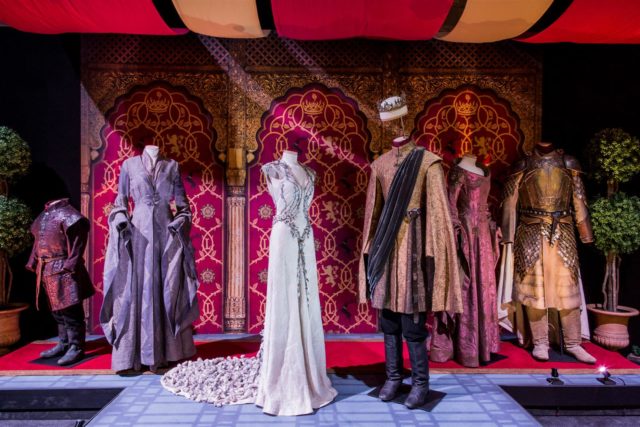 Based on the groundbreaking HBO® series, GAME OF THRONES: The Touring Exhibition will give fans the experience of a lifetime with an up-close and personal look into the world of Westeros and Essos.  In collaboration with HBO Global Licensing, global events provider GES designed and built the show's largest public display to date. The exhibition beautifully showcases the sumptuous costumes, authentic props, and majestic settings from all seven seasons of the worldwide hit series GAME OF THRONES in an interactive, immersive experience which leads visitors through several dynamically themed exhibition areas. Sold Out and Encore are partnering with GES to present the exhibition in Barcelona.
Experience the interactive Multichannel News Release here: https://www.multivu.com/players/English/8194651-game-of-thrones-touring-exhibition-barcelona/
GAME OF THRONES actors Tom Wlaschiha, who played Faceless Man Jaqen H'ghar, and Ian Beattie, who played Kingsguard Knight Meryn Trant, were on hand to celebrate the grand opening.
"It is an incredible honor to join my co-star at the opening of GAME OF THRONES: The Touring Exhibition in Barcelona. It has been a trip down memory lane to see all of the props and costumes again. I highly recommend it to fans and newcomers alike," said Ian Beattie.
"I found this exhibition to be impressively crafted and it was a great experience to revisit the House of Black and White in this new setting where fans can see it for themselves. The costumes on the show are so intricate and it is a delight to see them displayed for fans to enjoy up-close," added Tom Wlaschiha.
Fans of the series will recognize the breathtaking objects and enthralling artifacts from the screen, made real, and experience first-hand the artistry and craftsmanship that goes into the one-of-a-kind pieces showcased in this new 10,000-square-foot interactive experience.  Each dynamically themed exhibition area will transport visitors to the world of GAME OF THRONES with a unique mix of immersive environments, interactives, and multimedia content set within a carefully curated collection of the most breathtaking items from the show.
Visitors will be able to:
experience the wintry landscapes of the North and the tree-lined pathway of the Kingsroad;
view a garrison of Unsullied warriors and the iconic costumes of House Targaryen;
step into the House of Black and White
explore Castle Black, the home of the Night's Watch
and finally reach the Iron Throne, in the shadow of which nobles and common folk alike struggle for survival.
GAME OF THRONES: The Touring Exhibition makes its global debut at the Museu Marítim de Barcelona, starting 28 October, and tickets are available through gameofthronesexhibition.com.