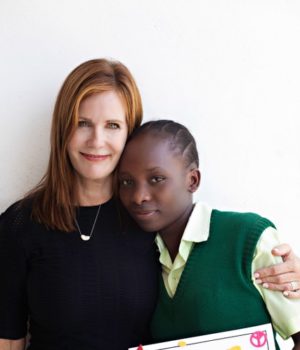 Lotte Davis is the Co-Founder of AG Hair, the only manufacturer of professional hair care products in Canada, with distribution to over 20,000 salons and beauty stores internationally. Lotte and her husband John Davis started AG Hair in 1989 in the basement of their North Vancouver home with a $5000 loan.
Their hair care line, known for its integrity and meticulous selection of natural ingredients, has grown exponentially over the past 29 years and now employs over 90 people with projected sales of $30M this year.
In addition to building her company into a well-renowned and respected beauty brand, Davis has worked tirelessly to demonstrate that AG Hair cares. Having grown up in the dawn of the apartheid movement in South Africa, she was acutely aware of the legacy of mistreatment and lack of opportunities for women in particular.
In 2008, she began building schools for girls in some of the poorest regions in Africa with funding from AG Hair promotions and AG's salon partners.
In 2013, she developed her own NGO called One Girl Can, expanding the scope of the work she does in Africa to include scholarships for girls to secondary and post secondary schools. She now focuses on more widespread fundraising strategies to build One Girl Can into a sustainable entity that will support thousands of girls with educational opportunities that will begin to shift gender inequality. She also now mentors and coaches all the girls in her schools each year to help them realize their potential through goal setting and career development.
One Girl Can will begin construction on their 7th school, and will have over 300 girls on scholarships this year. Lotte visits each of the schools and all of the scholarship students during her semi-annual visits to Africa. Success for One Girl Can is realized only when these students begin to earn a living, and Lotte is personally invested in each girl to ensure she achieves this goal.
Lotte is the 2016 winner of the YWCA Women of Distinction award for Entrepreneurship and Innovation.