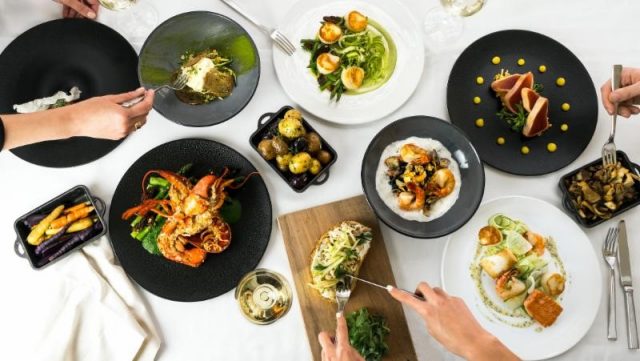 It's a great time to dine at YEW seafood + bar. The popular sustainable seafood restaurant has just launched new breakfast, brunch, lunch, dinner, lounge and cocktail menus. The collaborative effort represents the taste, experience and passion of many key players, with special mention to Executive Sous Chef Ben Kilford, Sous Chef Stephen Bukoff and Bar Manager Rus Yessenov. Flavourful influences from newly arrived Executive Chef Edgar Kano, and irresistible dessert creations from brand new Executive Pastry Chef Suraj Karmakar further up the ante. The results are fresh, fun menus featuring a wealth of bright and delicious choices.
YEW has long been known as THE place to power lunch in Vancouver. The city's "who's who" are enjoying mid-day favourites like a zesty Prawn "Campechana", colourful Panzanella salad, Pastrami-spiced Salmon burger, refreshing Trout Toast, Roasted Sea Scallops with morels and a decadent Grilled Cheese that makes an extra 20 minutes on the treadmill worth the effort. Soups, salads, chowders, composed plates, desserts and a full vegan menu and gluten free offerings ensure everyone is well fuelled.
The YEW dinner menu delights with a fresh take on Lobster, a reimagined chilled seafood round up in the Fishermen's Box, a rich Burrata starter, the perfect Tuna Tartare, delicate Cured Salmon, inviting composed entrees featuring salmon, halibut, sablefish and an unmissable Tagliatelle Scampi. Meat lovers will enjoy Rack of Lamb, the Ribeye, Filet Mignon and all guests will find a side that delights – Lobster Mash, roasted seasonal veggies, grains, potatoes and flawless fries.
Dessert has become an experience in itself thanks to Chef Suraj's interactive deserts like the Eton 'Mess' and YEW Rocher 2.0, with the Tropical Treat providing a mini vacation transporter diners to warmer climes.
Breakfast boasts a decadent buffet with made-to-order favourites, power juices and smoothies while Brunch addresses the age-old conundrum of sweet vs. savoury with all kinds of offerings in both categories. Think Brioche French Toast, Liege Waffles and Chia Pudding vs. Shrimp Benny, Prawn + Chorizo Hash and Smoked Salmon + Avo Toast.
Finally, the Cocktail and Lounge menus don't disappoint with a brand new line up of dishes and drinks that make every afternoon and evening feel welcoming and delicious. Try the Jerk Wings, Lobster Tacos with Chef Edgar's special salsa verde, Dungeness Crab + Artichoke Dip teamed up with refreshing and inventive cocktails like Beets by YEW, Super Seoul Fizz and Hollywood North. And yes, YEW's Aperitivo Hour is still going strong with eight $12 sippers perfect for afternoons.
About YEW seafood + bar:
YEW seafood + bar is one of the Vancouver's premiere sustainable seafood restaurants, delivering delicious cuisine, thoughtfully paired wines, innovative cocktails and a fun, welcoming environment for guests. Perched at treetop level in Four Seasons Hotel Vancouver, YEW's chic space, communal tables, bar and private dining spaces and bar make it the perfect place to bring your social network. For more information, visit yewseafood.com 'like' /YEWseafood on Facebook and follow @fsvancouver on Twitter and Instagram.