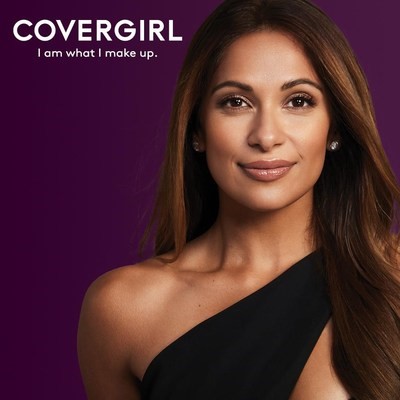 Today, COVERGIRL welcomes media personality Sangita Patel as its newest Canadian face for COVERGIRL's Simply Ageless Collection relaunch heading to stores this month. Sangita has become a familiar face on Canada's leading entertainment show, Entertainment Tonight Canada and is the host of HGTV's show Home to Win. Fearless and inspiring to women of all ages, Sangita embodies what's it like to be 'simply ageless' and pursues her passions with an unapologetic approach to beauty at any age. She is the latest addition to a diverse line up of women leading the charge in breaking boundaries in beauty that includes 70 year-old model and dietician Maye Musk, international pop sensation Katy Perry, cookbook author and television personality Ayesha Curry, and actress and producer Issa Rae.
As a trailblazing TV personality and entertainment journalist who balances her successful career with motherhood and a passion for health and fitness, Sangita is thrilled her partnership with COVERGIRL comes in the same month as her milestone 40th birthday. The new Simply Ageless campaign, which features Patel alongside Musk, celebrates women of all ages with the message that women should be proud to share their age with the world, no matter the number.
"It's the big 40 and I'm kicking it off by joining the COVERGIRL family! It is a dream-come-true opportunity to partner with a brand that has always celebrated all types of beauty and that continues to challenge the singular beauty standard," says Sangita. "True beauty is loving yourself, at any age."
Sangita, who has lived her life in the spotlight for more than a decade understands the importance of quality beauty products that go beyond the skin's surface, which made the partnership with COVERGIRL's reformulated Simply Ageless Collection a natural fit. The collection includes the Simply Ageless 3-in-1 Liquid Foundation, Simply Ageless Instant Wrinkle Defying Foundation, and the new Simply Ageless Instant Fix Advanced Concealer. All of the products in the collection now feature a hyaluronic complex and vitamin C to hydrate the skin and improve tone over time.
COVERGIRL's Simply Ageless Collection is available in store January 2019, and Sangita is appearing on in-store advertising effective January 1, 2019. She will also take part in media activities for the brand.