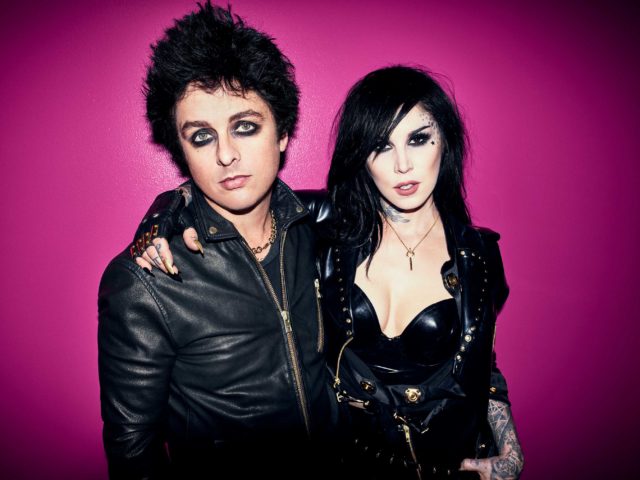 Kat Von D has teamed up with long-time friend, and Green Day frontman, Billie Joe Armstrong, to create the perfect black smudge pencil eyeliner for the ultimate rocker, messy, smoky eye. From shows to music videos to the red carpet, Billie Joe has rocked his signature eyeliner look since the 90's, and now guys and girls can recreate it themselves with this super limited-edition collaboration available exclusively at SEPHORA and KATVONDBEAUTY.COM. No need for brushes or multiple products, simply apply, smudge with fingers, and flaunt.
"It's really exciting to be – what I think is the first – male musician (or even male) – to launch a black pencil eyeliner like this and in collaboration with Kat. Her products are amazing," said Billie Joe Armstrong, lead singer of Green Day.
"Super excited about our upcoming eyeliner collab! There's no one else on the planet better to create a black pencil eyeliner to give a perfect anti-precision smudgy look than the guy who made it famous in the first place, Billie Joe…," added Kat Von D.
Kat's unique formula glides on creamy with plenty of play-time, which means you can effortlessly smudge and diffuse to achieve your favorite look, before it sets in place for unstoppable wear. With a chubby pencil format and maxed-out, ultra-black pigment, Basket Case is the perfect tool for super-fast lining around the eye. Kat and Billie Joe tested this formula themselves to make sure it's the ultimate cool tool to achieve Billie Joe's famous look, and the built-in sharpener ensures you're always ready to rock.
The name Basket Case comes from Green Day's most popular track from their 1994 album, Dookie.
Get The Look:
Leah Carmichael from the Kat Von D Beauty Artistry Collective (@iamleah) spills her secrets on how she created Kat's ultimate rocker eye in the new Basket Case eyeliner campaign with Billie Joe Armstrong:
When coming up with Kat's look for the Basket Case campaign we knew that going with the heaviest, darkest smoky eye would be the best way to show the world that they were about to get their hands on the ultimate black pencil eyeliner.
When applying Kat's smoky eye we went straight in and smudged the hell out of the pencil and used the domed side of the Shade & Light Eye smudge brush to get the look. The Basket Case liner's super creamy formula allows you to easily build and layer your own smoky "AF" look.
Basket Case is an anti-precision eyeliner, so there are no rules. Whether you are going for a dark smoky eye or a subtle smoky wing, Basket Case is going to be your most important and versatile tool. You could even use your finger to apply it as a dark eyeshadow base.
Kelseyanna Fitzpatrick from the Kat Von D Beauty Artistry Collective (@kelseyannaf) shared how she created Billie Joe's signature eyeliner look:
To achieve 

Billie Joe's

 "guy liner," loosely apply Basket Case pencil eyeliner onto bare lids along lashline top and bottom, and in the waterline. Buff out using a small brush or your fingers –  the messier the better!